We're excited to share with you today the release of JoyPixels 6.5! Featuring 271 new emoji from Unicode 13.1 and 300 design updates to our JoyPixels 6.0 collection, JoyPixels 6.5 is the culmination of six months of passionate creativity. We are thrilled to release our most diverse signature emoji set ever, as well as the refinement of our other icons, in this timely, most complete release, available free for JoyPixels 6.0 license-holders.
New for Unicode 13.1
JoyPixels 6.5 includes all 271 new releases from Unicode 13.1. Though we do see three new smileys (Face Exhaling, Face with Spiral Eyes, and Face in Clouds) and two new hearts (Heart on Fire and Mending Heart), the bulk of these 271 new emoji come in the form of gender and diversity updates. We now have a Woman with Beard as a counterpoint to the Man with Beard and Person with Beard, and all are available in all diversities. The other 200 new emoji come from different skin tone combinations for the Couple with Heart and Kiss emoji. All gender combinations are available in all skin tone combinations for a truly representative display of affection.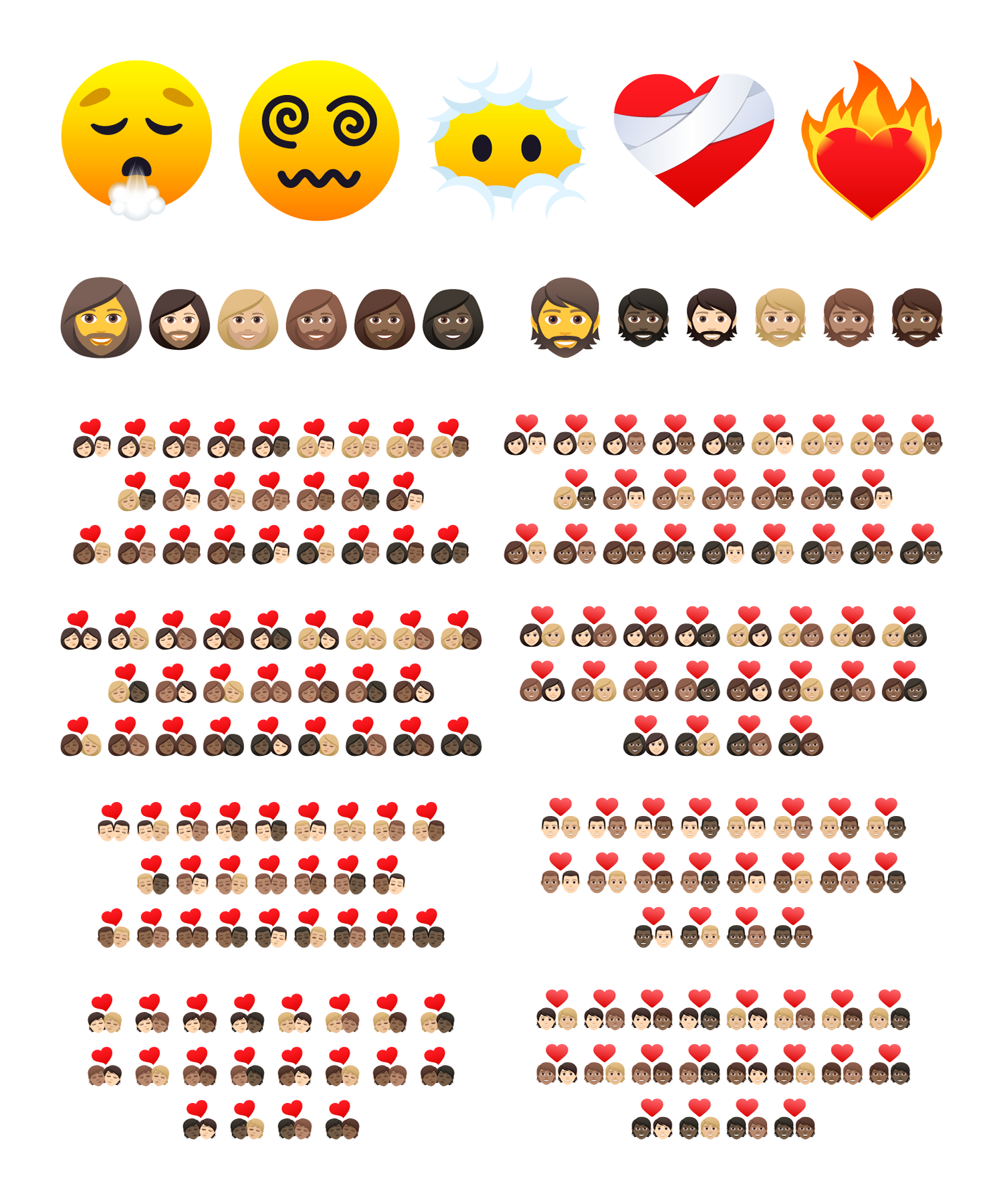 Hand Updates
A great deal of attention was paid in this update to the hand emoji. In keeping with our evolution toward more detailed designs, the new hand updates feature fingernails, wrists, enhanced palm lines, more defined knuckles, and deeper gradients, for much more lifelike icons.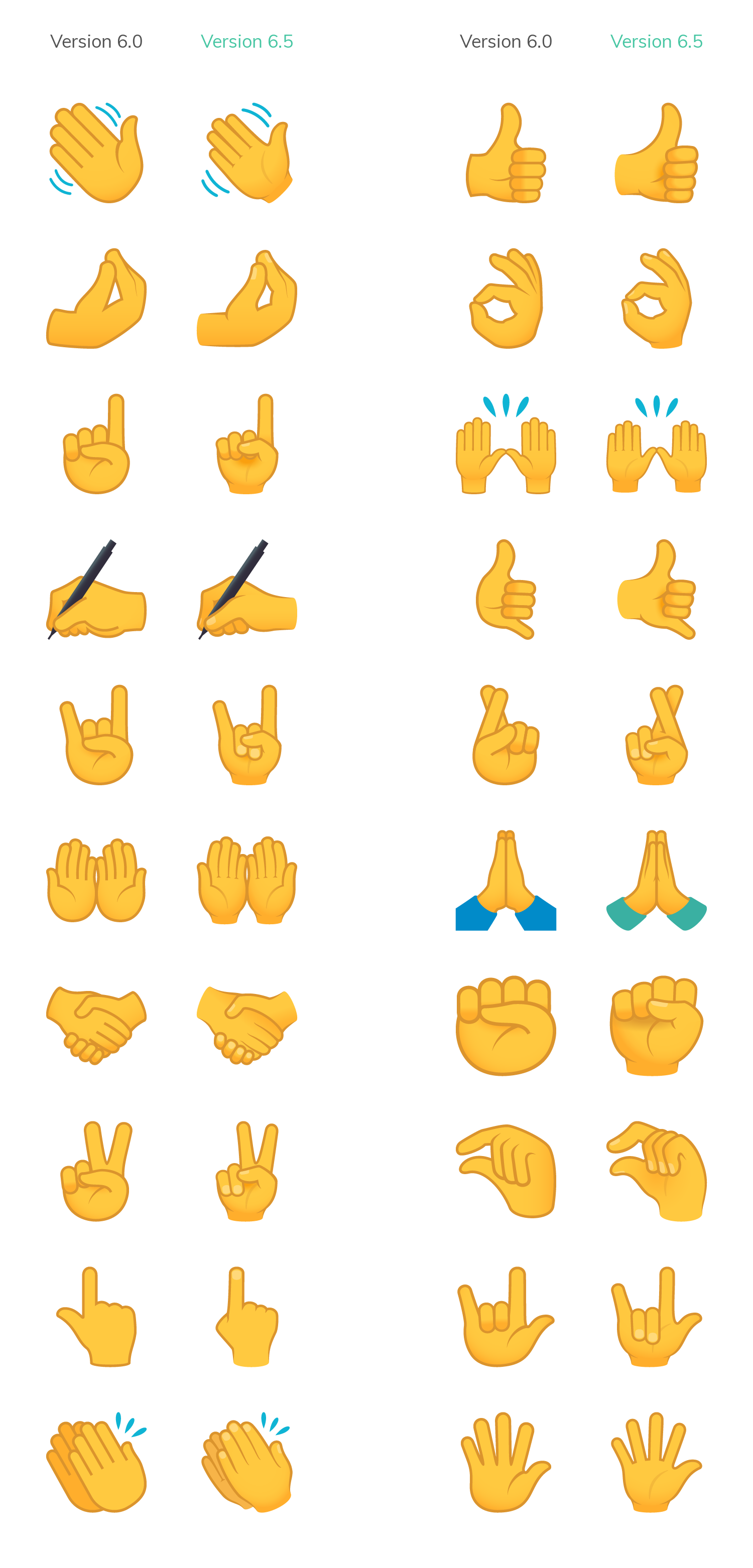 Flag Updates
JoyPixels 6.5 sees a thorough redesign of our flag set, as well. We went country by country, making sure our details were as true to the real flag as possible, adding small features that were previously missing. Colors were also brightened, for more vivid, bold designs across the board.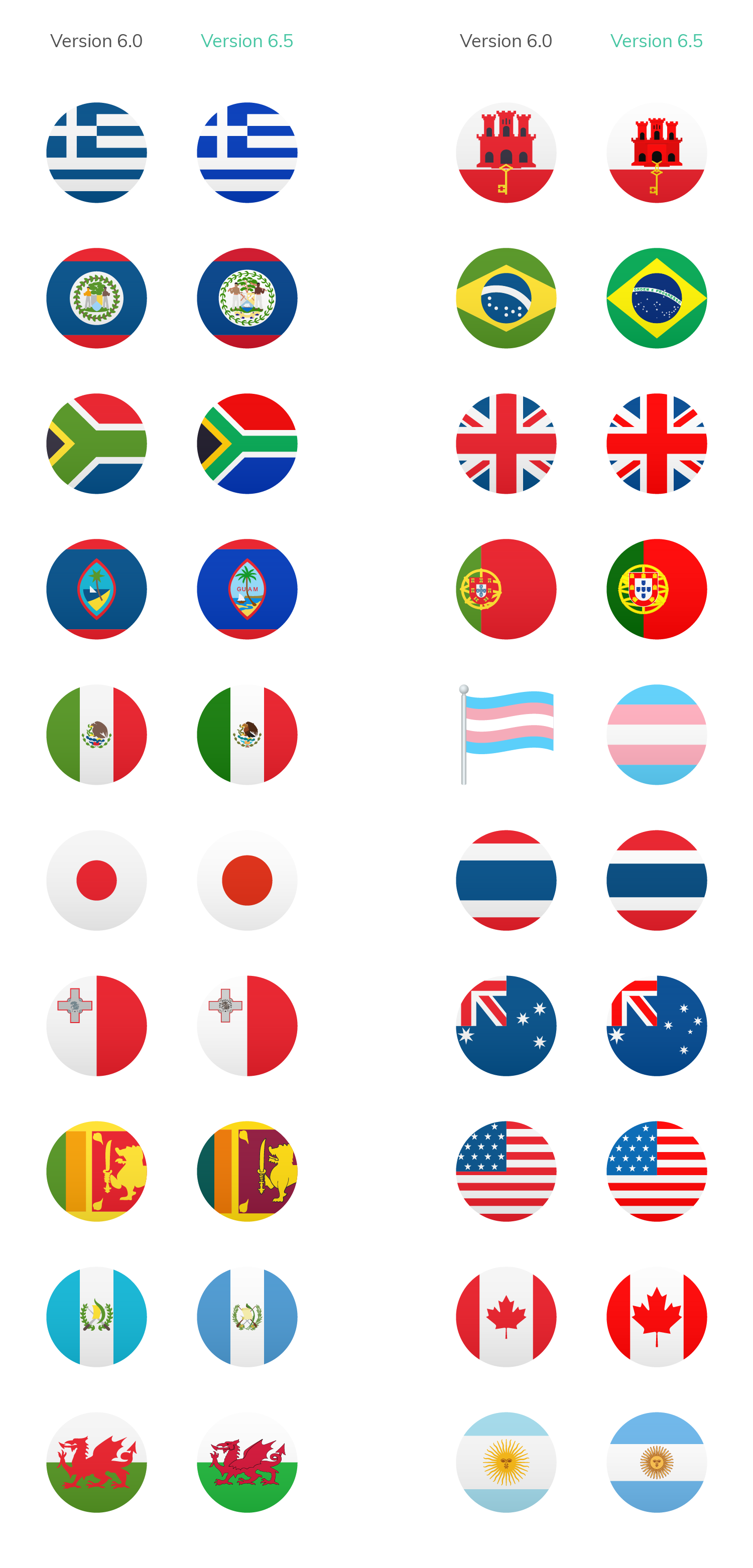 JoyPixels 6.0 Updates
We also took a look back at the new emoji we introduced last summer in JoyPixels 6.0 and finetuned many of their designs. In some cases, it was an effort to make the characteristics more consistent with how these emoji appear from other vendors. In other cases, it was the continued refinement of bringing JoyPixels spirit and detail to the new emoji.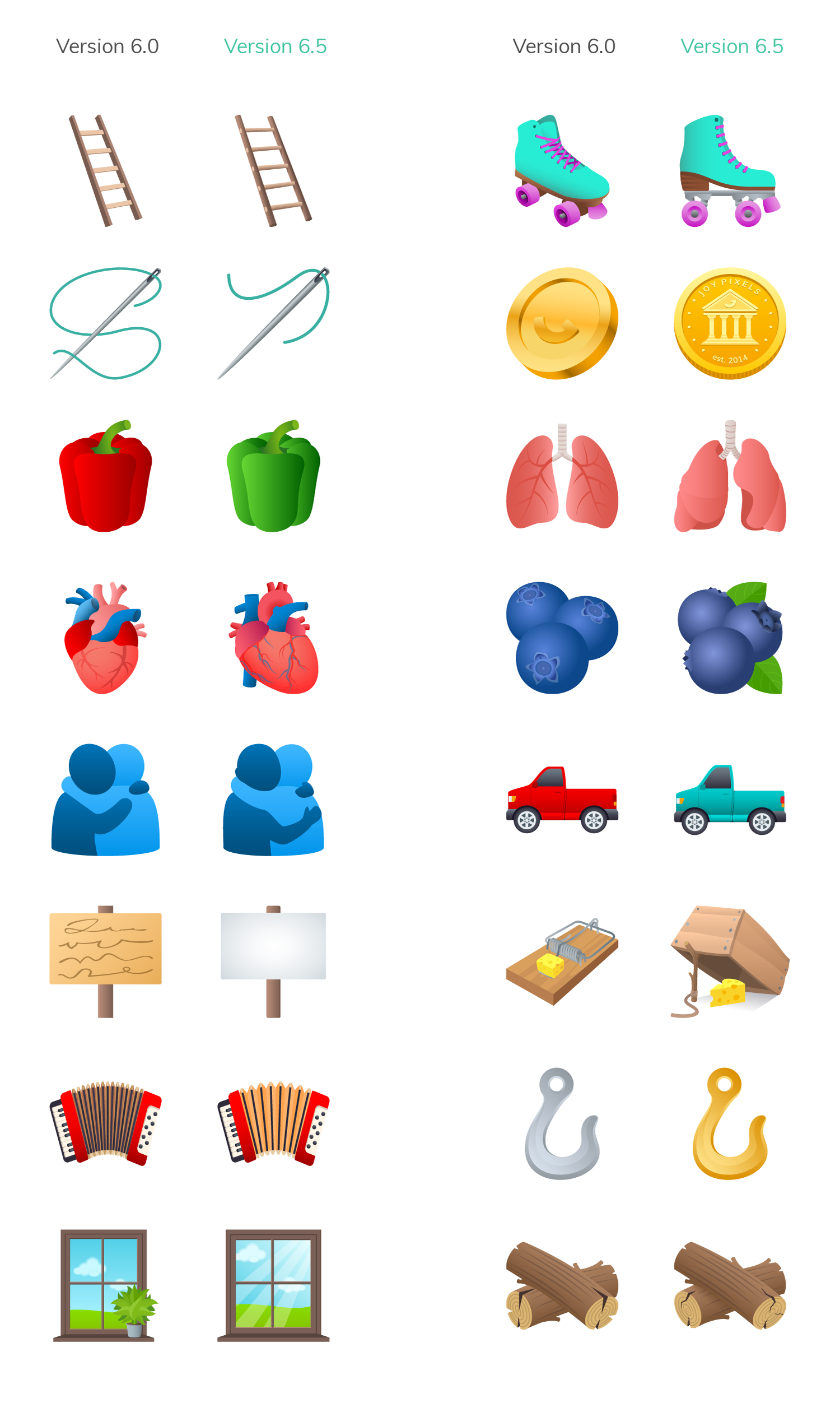 Other Updates
And of course, no update would be complete without a thorough review of the rest of the JoyPixels collection. The Mermaid, Merman, and Merperson emoji all received fantastic new tails. The Cityscape at Dusk looks more beautiful than ever. Perhaps most importantly, the Microbe and Face with Mask emoji have been brought in line with societal expectations stemming from this last year. The Microbe closely resembles the COVID-19 virus, and the Face with Mask dons a mask that is more similar to those of current healthcare works. We saw this as a timely opportunity to make the Microbe emoji more relevant to the current global conversation.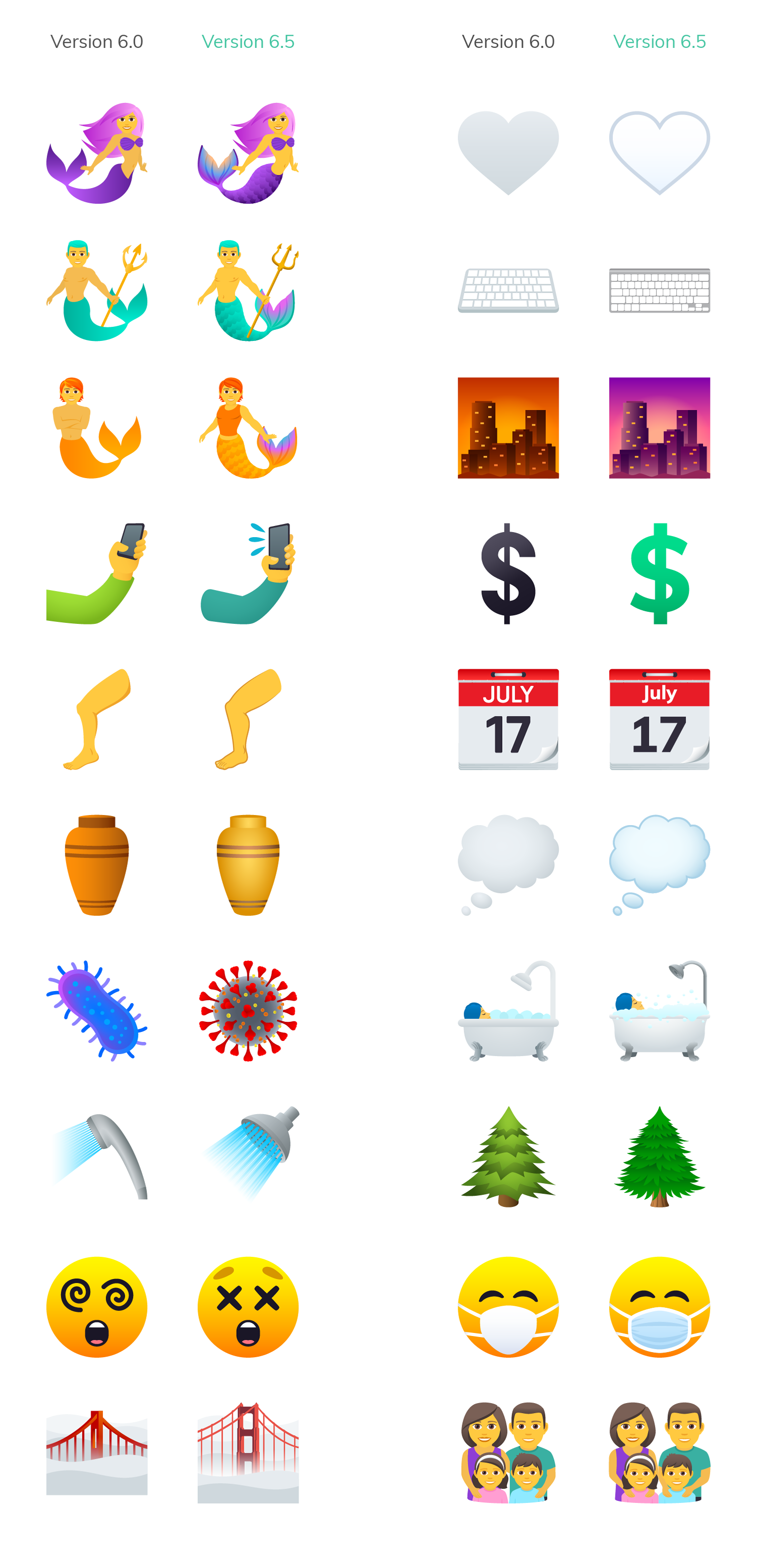 Upgrade Now
JoyPixels 6.5 is now available for immediate licensing! In addition to the signature emoji set, all of our free and premium emoji fonts are available today, including the updated Iconjar file, for complete access to the 6.5 collection.
Current JoyPixels 6.0 license-holders will receive the 6.5 upgrade at no cost, and version 3, 4, and 5 license-holders may purchase the JoyPixels 6.5 collection at a discounted price of 25% off! This discount is also auto-applied at checkout when logged in.
Visit our emoji license comparison page or reach out to us to determine which license is right for you, and get access to JoyPixels 6.5 today. This collection captures the unique needs of the times we live in, and we're pleased and humbled to be sharing it with you and continuing to spread joy one pixel at a time. ✨