JoyPixels is proud to announce the release of our newest signature emoji set - JoyPixels 6.0! With the addition of 117 new emoji in Unicode 13.0, JoyPixels 6.0 includes an impressive 3,342 emoji! Style updates were also made to our existing collection, including dramatic developments in our animal category in particular. JoyPixels 6.0 is now available for immediate licensing.
New for Unicode 13.0
All 117 new emoji released in Unicode 13.0 are included in JoyPixels 6.0. Several very highly anticipated new emoji made the cut, such as the Transgender Flag, Smiling Face with Tear, People Hugging, and the Pinching Hand gesture. The inclusion of the Anatomical Heart and Lungs are also noteworthy additions.
Variations of existing emoji are now available to even more of our people, including Woman in Tuxedo, Man in Veil, Person in Veil, and a gender inclusive Mx. Claus. Additionally, the Woman, Man, and Person Feeding Baby were added, as well as a Ninja emoji. Note that all people emoji and variations are available across all diversities.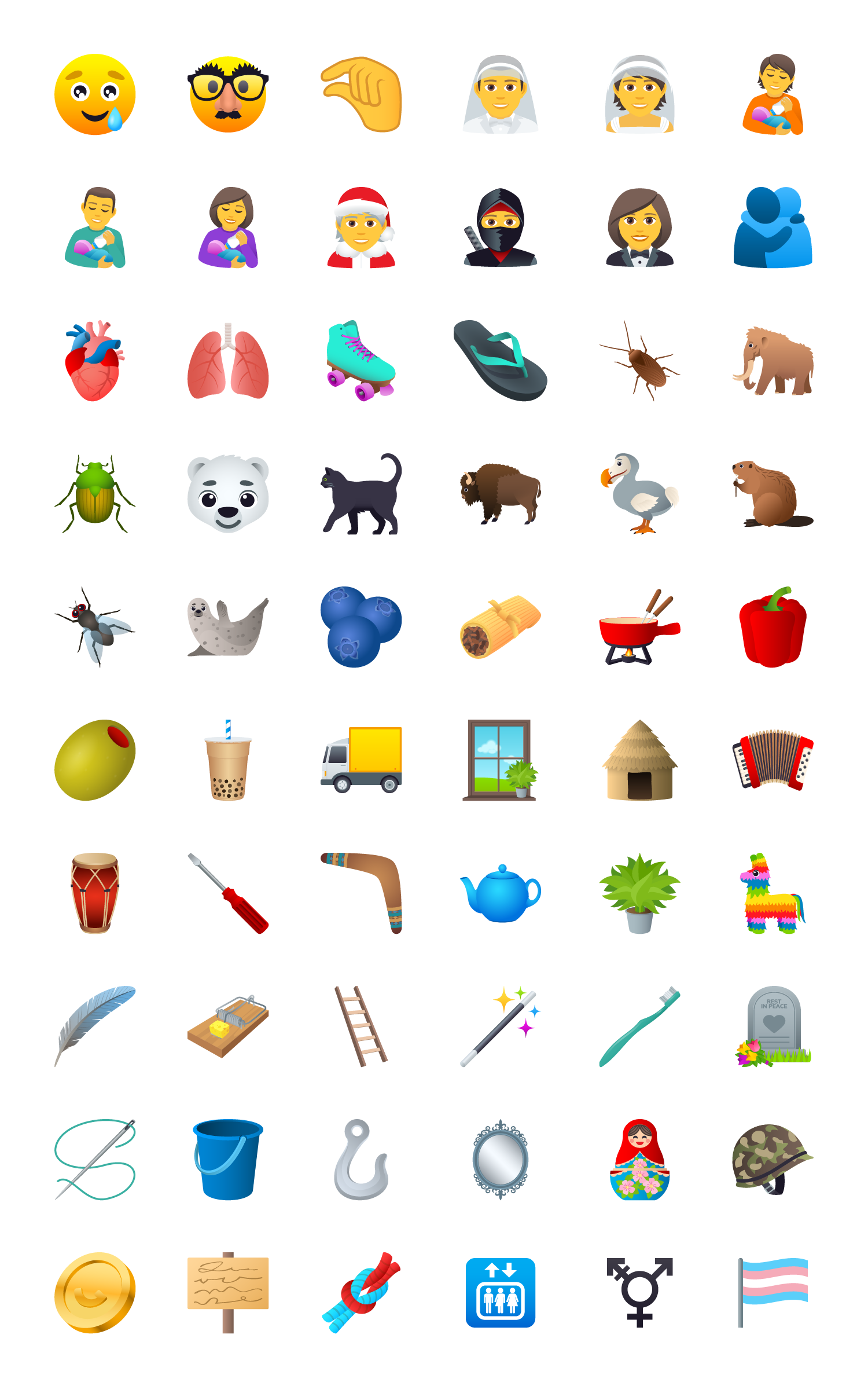 Smiley Updates
A number of changes were made to our smileys in JoyPixels 6.0, including thickened, reshaped eyebrows. Our Smiling Face with Horns and Angry Face with Horns emoji have never looked fiercer and our Face with Medical Mask includes an updated mask style more in line with masks worn publicly in 2020. More subtely, you'll notice deepened colors across the gradients, as well.

People Updates
Numerous updates were made in the People category. The Chef has set down his knife and picked up a classic wooden spoon, the Guard's hat has taken on a furrier look, and the Kimono has beautiful new details. All told, there were over 460 design updates and additions to the People category.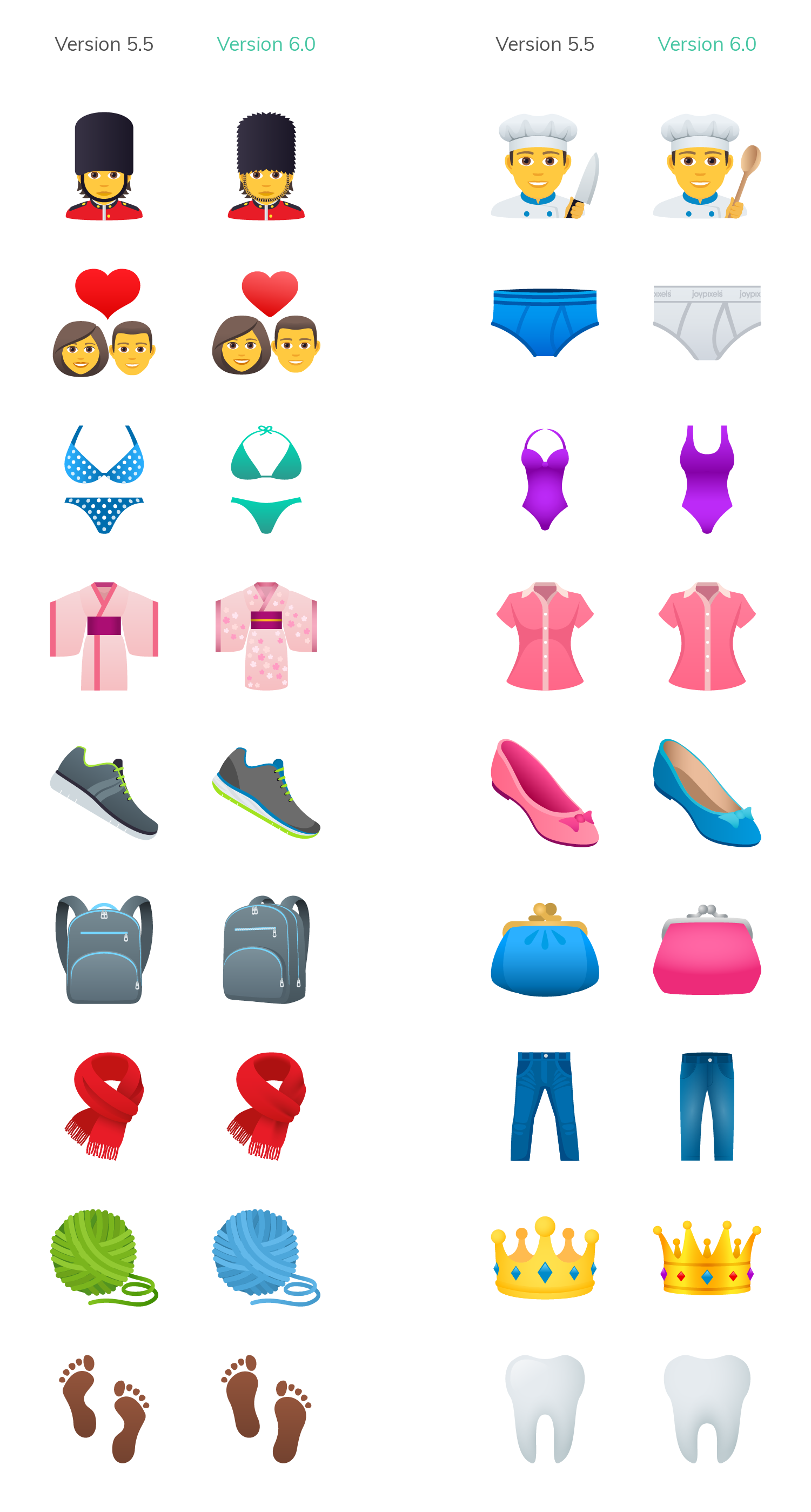 Nature Updates
Perhaps the most sweeping changes of JoyPixels 6.0 can be seen in our animal emoji. We embraced the "cute" or "kawaii" style, with adorable, big eyes and sweet little smiles. The designs are altogether friendlier and appealing to child and adult markets, alike.

Food Updates
Much fine-tuning was done in the food category. Gradients and perspectives were shifted at times, minor shapes were altered, and effort was put into making the cuisine as appealing and appetizing as possible.

Object Updates
While most of the updates to our objects were purely cosmetic in nature, the Pistol emoji is taking on an entirely new look and meaning. In the interest of cross-compatibility, we are formally making the switch to a watergun and retiring the realistic pistol. We have, of course, put our own JoyPixels touch to the gun, for a playful take with unparalleled attention to detail.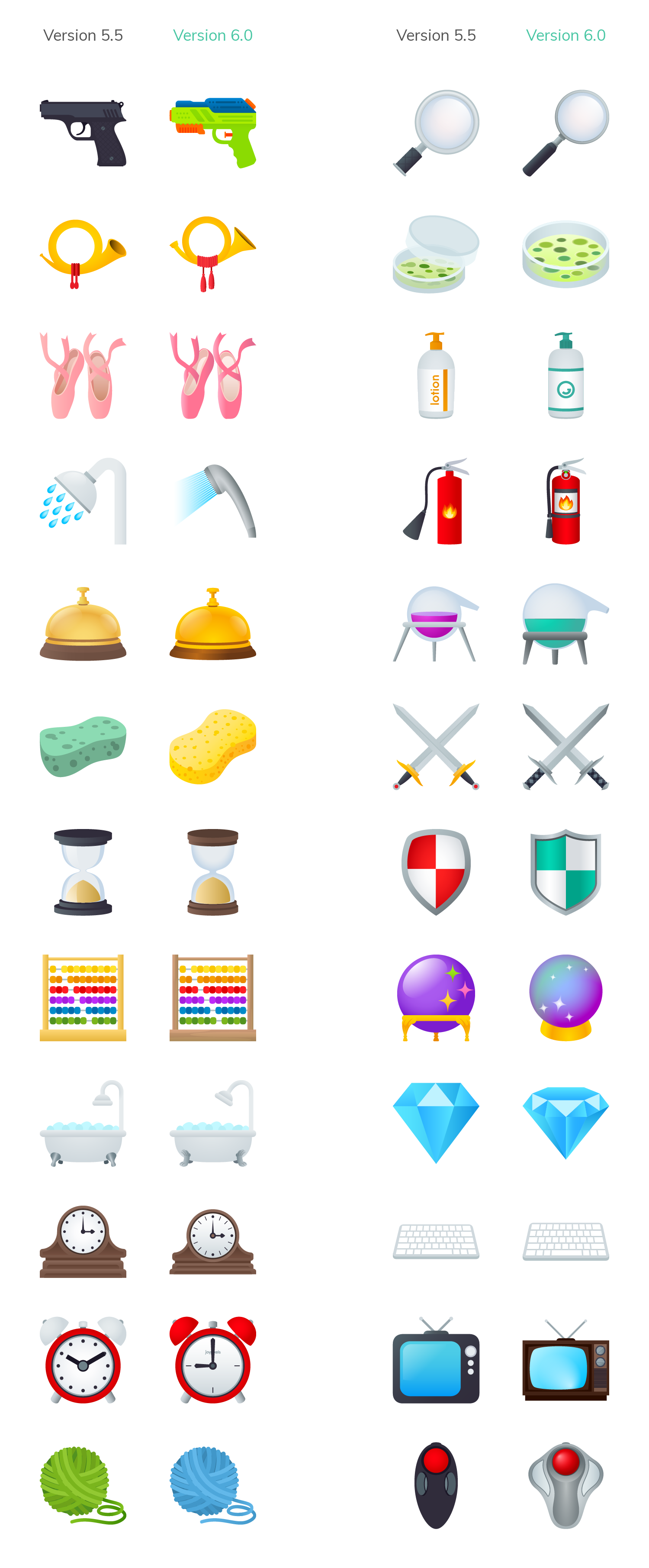 Travel Updates
Across the travel category, more minor tweaks can be seen. The shifts are subtle, but nonetheless crucial in presenting designs that are both realistic and attractive.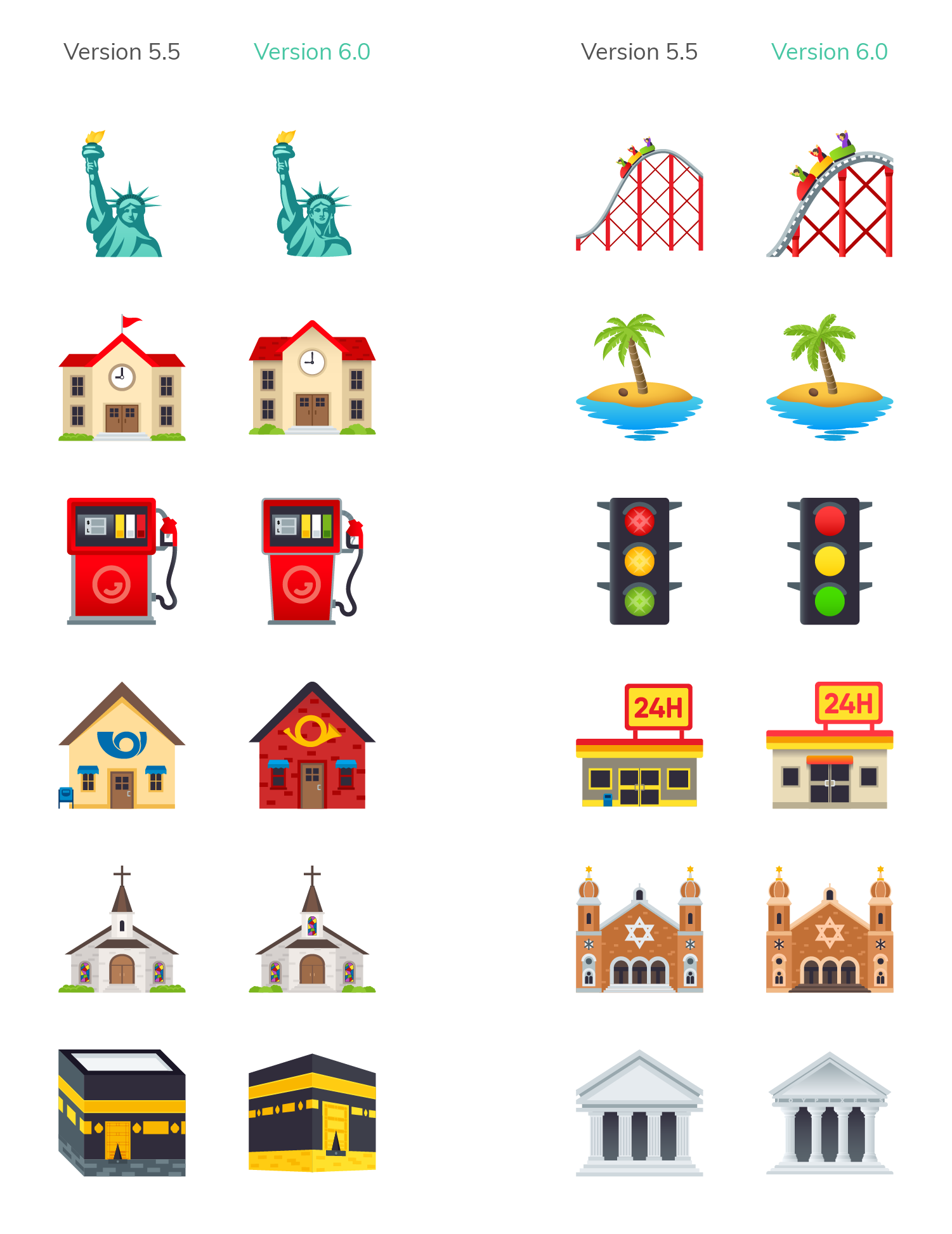 Now Available
JoyPixels 6.0 is available for immediate licensing. To determine which license is right for your project please visit our emoji license comparison page or reach out to us with your questions.
Upgrades enjoy additional 25% off for being a current license holder (Version 3, 4, or Version 5).  This discount has no expiration and is also auto-applied at checkout when logged in.
For the first time ever, all of our fonts (free and premium) are available at launch day!  This includes the updated Iconjar file for our most complete launch yet.
JoyPixels is excited to bring you the latest in emoji creation and design, spreading joy one pixel at a time!  ✨