JoyPixels is proud to announce the release of our newest signature emoji set - JoyPixels 8.0! The addition of 31 new emoji to Unicode 15.0 brings the total emoji count in JoyPixels 8.0 to an impressive 3,702 emoji, with 965 pre-existing emoji receiving updates.
For the first time ever, and unique among emoji providers, JoyPixels 8.0 is entirely dark mode compatible. Style updates were made throughout our existing collection, including significant developments in the Nature and Travel categories. JoyPixels 8.0 is now available for immediate licensing.
Emoji Tailored for Dark Mode
JoyPixels 8.0 features first-of-its-kind dark mode compatible emoji. Our meticulously designed set ensures your message stands out, no matter the background. Emoji that are traditionally solid black (such as the Black Heart 🖤, Black Circle ⚫, and Club Suit ♣️ emoji) now have a thin gray outline which fades away on white backgrounds while boldly standing out on black. Dark emoji (such as the Spider 🕷️, Flashlight 🔦, and Pen 🖊️) have been lightened overall to shades of gray and silver.
Our dark mode compatible emoji allows licensees to maintain visual appeal without sacrificing clarity.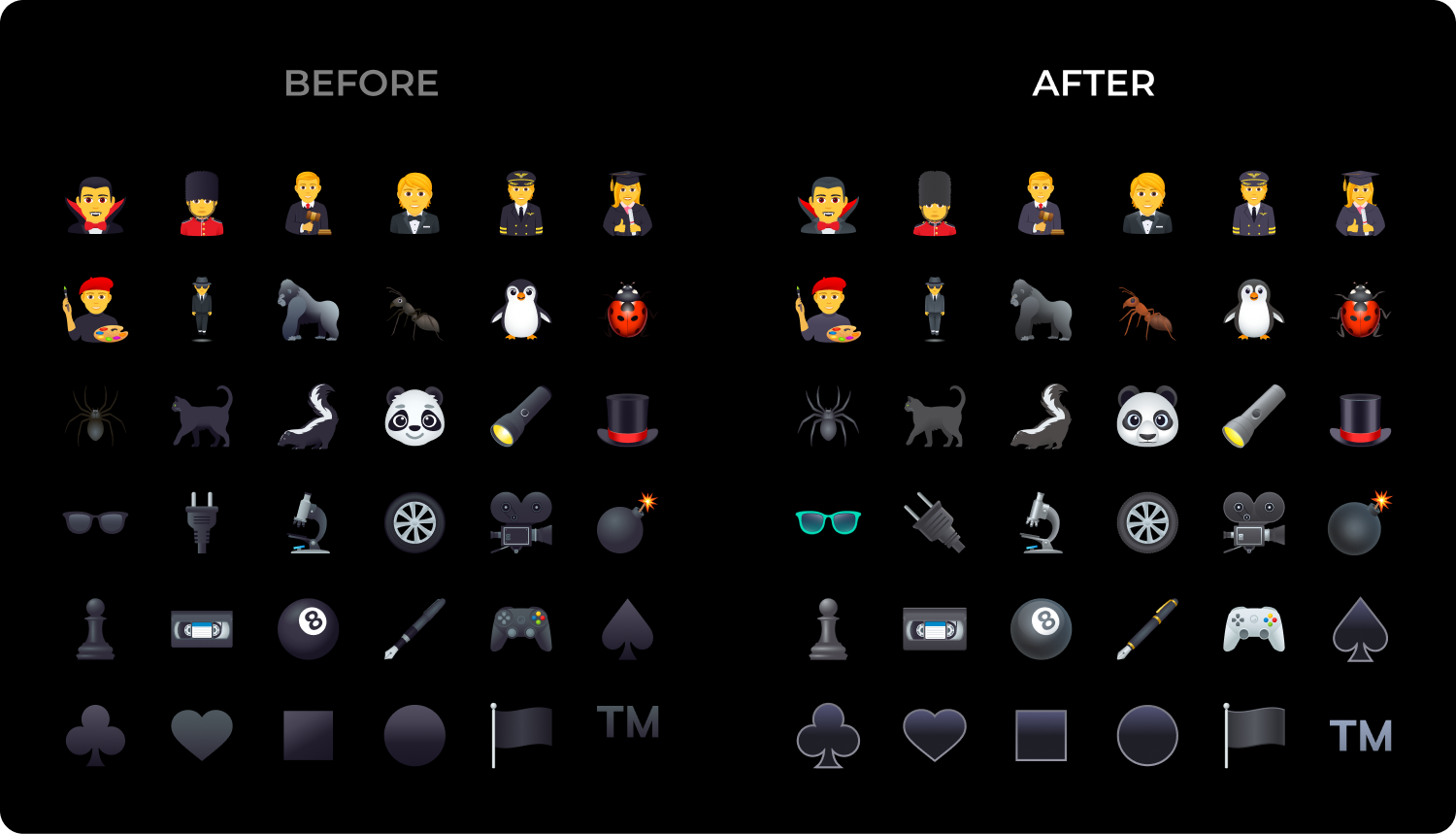 New for Unicode 15.0
All 31 new emoji released in Unicode 15.0 are included in JoyPixels 8.0. Several very highly anticipated new emoji made the cut, such as Shaking Face, Pink Heart, Hair Pick, Jellyfish, and Maracas. The inclusion of the Ginger Root, Moose, and Wireless are also noteworthy additions.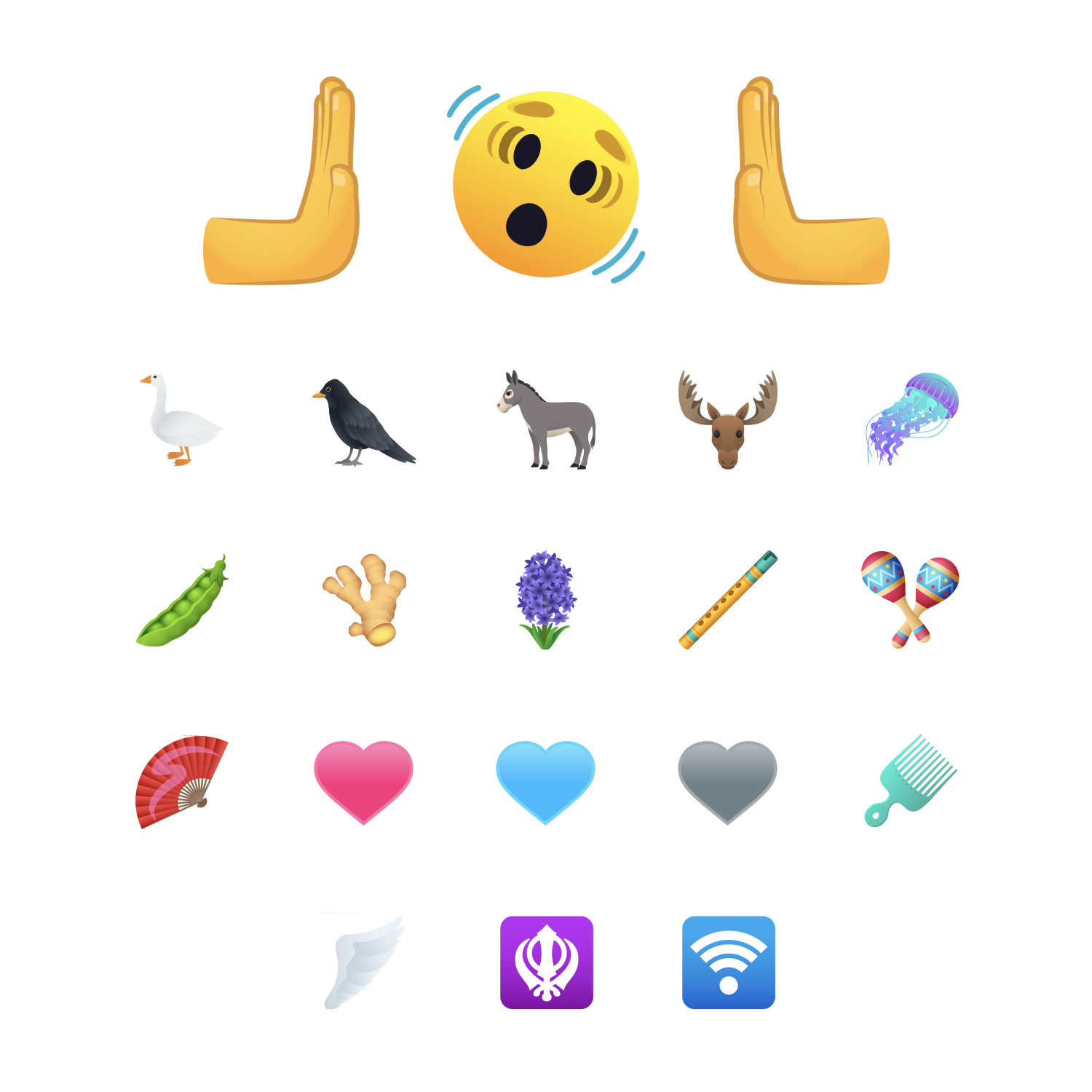 Nature Emoji Updates
The Nature emoji category sees significant updates in JoyPixels 8.0. The faces of the animals take on a more realistic look, with less cartoon-like eyes, the addition of whiskers, and in many cases, the removal of the eyebrows. Coloring was updated, with more gradients for smoother color transitions such as in the Coral 🪸. The poses of Sloth 🦥, Otter 🦦, and Orangutan 🦧 have been altered, as well.

Travel Emoji Updates
Emoji within the Travel category also received attention in the JoyPixels 8.0 update. The Volcano 🌋 looks more realistic, the Tent ⛺ looks more traditional, and the Flying Saucer 🛸 is now being piloted by a friendly Alien 👽.

Miscellaneous Emoji Updates
Emoji in our People, Symbol, Activity, Food, and Objects categories recieved minor but no less noteworthy updates. Saluting Face 🫡 now features a more accurate hand position, the expressive Grinning Cat 😺 and Pouting Cat 😾 received the same treatment as the other animal faces, and our snowbound athletes now resemble serious competitors.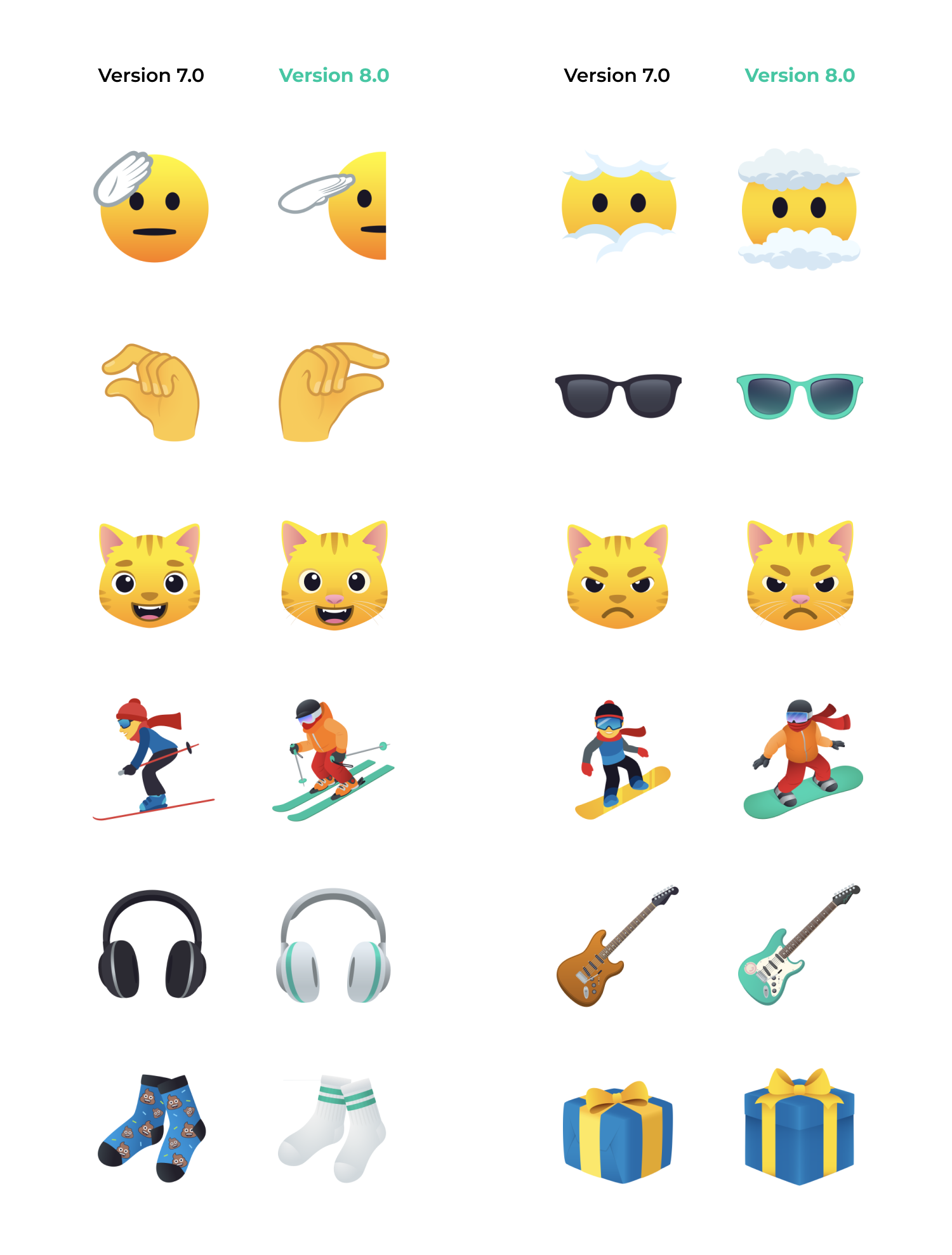 Premium Web Emoji Fonts
We're pleased to include the JoyPixels 8.0 Premium Emoji Font Suite in every premium emoji license. This download includes fonts compatible with all modern browsers, Android, and Linux (including WOFF and WOFF2 fonts and CSS implementation). Fonts can be demoed at EmojiCopy.com.
The premium font package starts at $99 and is included free with a JoyPixels 8.0 Premium License (note that the font package is no longer included with the free license).
Now Available for Licensing
JoyPixels 8.0 is available for immediate licensing. To determine which license is right for your project please visit our emoji license comparison page. Free licenses are available for personal use, and commercial use is tiered as follows:
Personal: Free
Non-profit: $199 (micro) - $899 (large)
Business: $299 (micro) - $1299 (large)
Enterprise: Custom quotes available
Current license holders (of Versions 3-7) will enjoy an automatic discount of 25% of their JoyPixels 8.0 upgrade. This discount has no expiration and is auto-applied at checkout when logged in.
About JoyPixels
JoyPixels is a top-provider of free and premium emoji icons. As one of the few Unicode-compliant emoji libraries, JoyPixels stands alone as the only fully-licensable emoji collection. What began in 2014 as an open source passion project has evolved into a worldwide service providing free personal and bespoke enterprise licenses to top brands worldwide. You can learn more about JoyPixels emoji by visiting our brand deck.