In the creative industry, your product is only as good as your people. It takes a winning team to develop the kind of cutting-edge designs that are sought after by world-renowned businesses big and small. Here at JoyPixels, we're fortunate to have the best of the best at our side. It is with great pleasure that we present the first in a five-part blog series, introducing you to the people behind the dream and offering a glimpse of how they contribute to the finest in full-service emoji development and licensing.

Can you explain a bit about your role at JoyPixels?
"While I've been a part of this company for about 20 years, I first joined the JoyPixels project in 2015. At first, I helped out in all areas, from social media designs and marketing to licensing and account management, with some input on the emoji designs. Almost organically, we've all settled into our different roles. Now I spend most of my time working on emoji designs for all new Unicode additions and all design upgrades for each new version we release, typically twice per year."
What is the process like for designing a brand new emoji?
"There are always a few things we take into consideration when designing any new emoji.
First, it is essential that our design doesn't copy but is in the same spirit as the same emoji for all other platforms. Emoji should be recognizable regardless of platform. For example, with the 'Sandwich' emoji, we're not going to decide to create a baguette sandwich just because we want to live in France and prefer our sandwiches this way. We're going to follow the examples provided by Unicode, Emojipedia, and all of the other platforms.
The second aspect to consider is each element of an emoji and how we want ours to look. Using the 'Sandwich' emoji as an example again, we'll examine the bread and look for imagery online and all of its tiny details, from texture to shape and crust. These come from many different sources, and we combine those ideas and elements to create our unique design. We use this same technique from the bread to the lettuce, meat, and cheese. However, where the meat gets placed in relation to the lettuce and cheese, or whether we add tomato, that is a preference choice we take liberty on without following other platforms.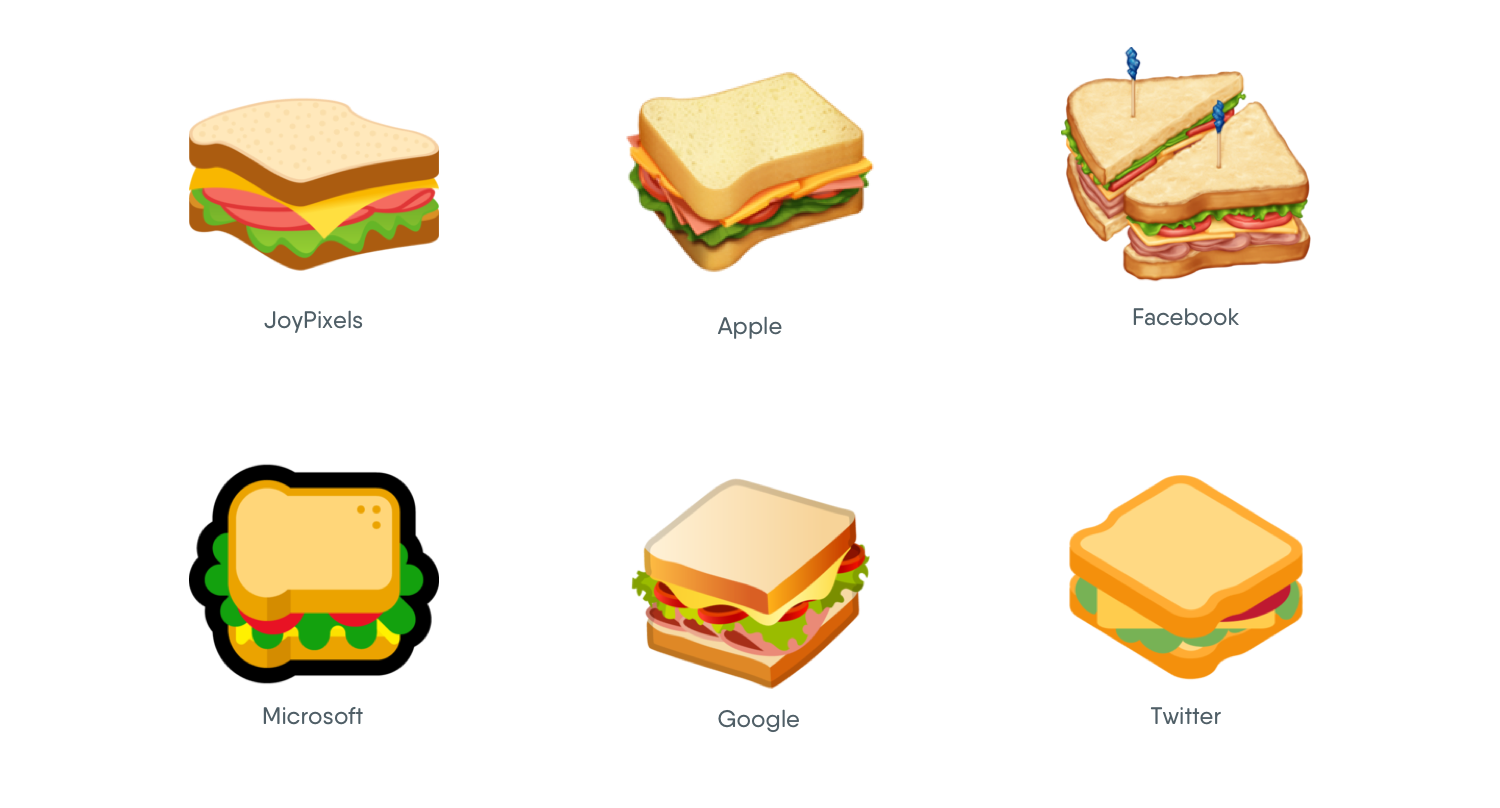 Finally, we always want to offer a high level of accuracy in our designs. For example, I worked on designing the 'Sari' emoji with my brother's wife. She is from Sri Lanka and much more familiar with the different sari styles and can better precise the design than I could have alone. There is a certain level of accuracy that we try to bring to all of our icons while still keeping them playful."
How do you learn about the new emojis, and when do you begin designing them?
"Since we're members of the Unicode Consortium, we're always up to date with any new emoji that are in consideration. Once the next Unicode list is provided, we typically start right away, sometimes even if it's not the finalized published list. We always want to have a jump start on designs to make sure any new Unicode approved emoji can be included in our next update, which typically means our designs are available before most other platforms."
How about existing emoji? How and when do you decide those need a new look?
"Since we update twice a year, and typically before the other platforms, it's always easy to see when we've missed the mark on a new design. It could be small details, such as directional changes. The color of the 'Bell Pepper' is also one example. We made ours red at first but recently changed it to green to follow most other platforms for our v6.5 release. The second benefit of updating twice per year is that it's always vividly apparent just how far our designs have come over the years, which means when we look at many of our older emoji versions, it is clear that we can always make them that much better!"

What has been the most challenging emoji to design?
"People are always hard, but for me it is, the 'Dragon'/'Dragon Face' by far! We came pretty close to having an update for this in v6.5 but decided to keep working on it. Hopefully, we can have a finalized version we're 100% happy with for v7.0. A situation like this happens a lot during the design process. If we can't get an emoji updated to a new design that we're completely happy with, then we'll keep working on it for a later update rather than releasing something we don't believe in 100%."

What is your favorite emoji?
"That's like picking a favorite child - impossible! I like what we did with some of our symbol updates for JoyPixels 6.5. We went back to the original Unicode submissions for some of these, such as 'SOS', 'NEW', 'OK', 'COOL', and 'FREE', to re-create a design more in-line with what the initial intention was. The emoji I use most often is probably the 'Grimacing Face', but design-wise, our new 'Microbe' emoji is pretty awesome. I also love the design of our 'Fairy' emoji and most of the food icons, perhaps because food is my other creative passion!"

What do you think sets JoyPixels apart from other emoji vendors?
"So many things! Designwise, the most straightforward answer is how often we update and improve our designs; we're one of the first to release all-new Unicode updates, including all gender and diversity designs. We also pay close attention to every little detail and bring a certain degree of joyfulness to every icon.
However, the most significant answer to this question is that we're fully licensable, from apps to merchandise, advertising, digital products, and any other project you can think of! This is a huge advantage not just for us but also for our licensees! Our ability to incorporate every market need for emoji is incomparable to any other platform, and we do it with a high level of service regardless of requirements. We have a licensing team devoted to this. We also have a development team working hard to offer multiple emoji fonts and toolkits for developers, offering incomparable customer service to aid in implementation."

Anything else you'd like to add?
"Taking on the role of Creative Director has undoubtedly enriched my work-day. Finding solutions to difficult design considerations, which is normal when designing an icon not just to the Unicode standards but also meets the requirements for all possible usages for our licensees, is uniquely satisfying.
As a creative person, improving and updating designs we once loved enough to have previously released brings a great sense of accomplishment. Even more enjoyable is pushing our amazing design team to create something continuously better, more involved design-wise, and collaborate throughout the entire process. There is always a hard push at the end, but then it's "drinks all around" when we finish all designs to be packaged up for the next update!"

Cheers to that, Lisa!
If you'd like to learn more about how Lisa and the rest of the JoyPixels team can work with you on your next project, reach out to us at [email protected], and stay tuned for the next installment of Meet The JoyPixels Team! ✨