JoyPixels is proud to announce the release of our newest emoji signature set- JoyPixels 5.0! Featuring a grand total of 3,057 emoji, this fully Unicode-compliant library includes all of the new designs introduced in Unicode 12.0, along with style updates to our existing collection. JoyPixels 5.0 is now available for immediate licensing.
A whopping 1,913 emoji were updated or added in Version 5.0. These updates fine-tune the gradient stylings first introduced in JoyPixels 4.0. Attention has been paid to every detail, resulting in emoji that are even more realistic. Our in-house design team has infused 5.0 with equal parts realism and joy and the outcome speaks for itself.
Smiley Updates
All smiley emoji received sweeping updates in Version 5.0, both with minor and major enhancements. Most noticeably, a brighter yellow is now the hallmark smiley color. Eyebrows were also lightened and received sharper end points, and expressions were polished, as in the Winking Face and Angry Face.  Gradients were expanded to Face Vomiting and Face with Steam From Nose and are more vibrant throughout.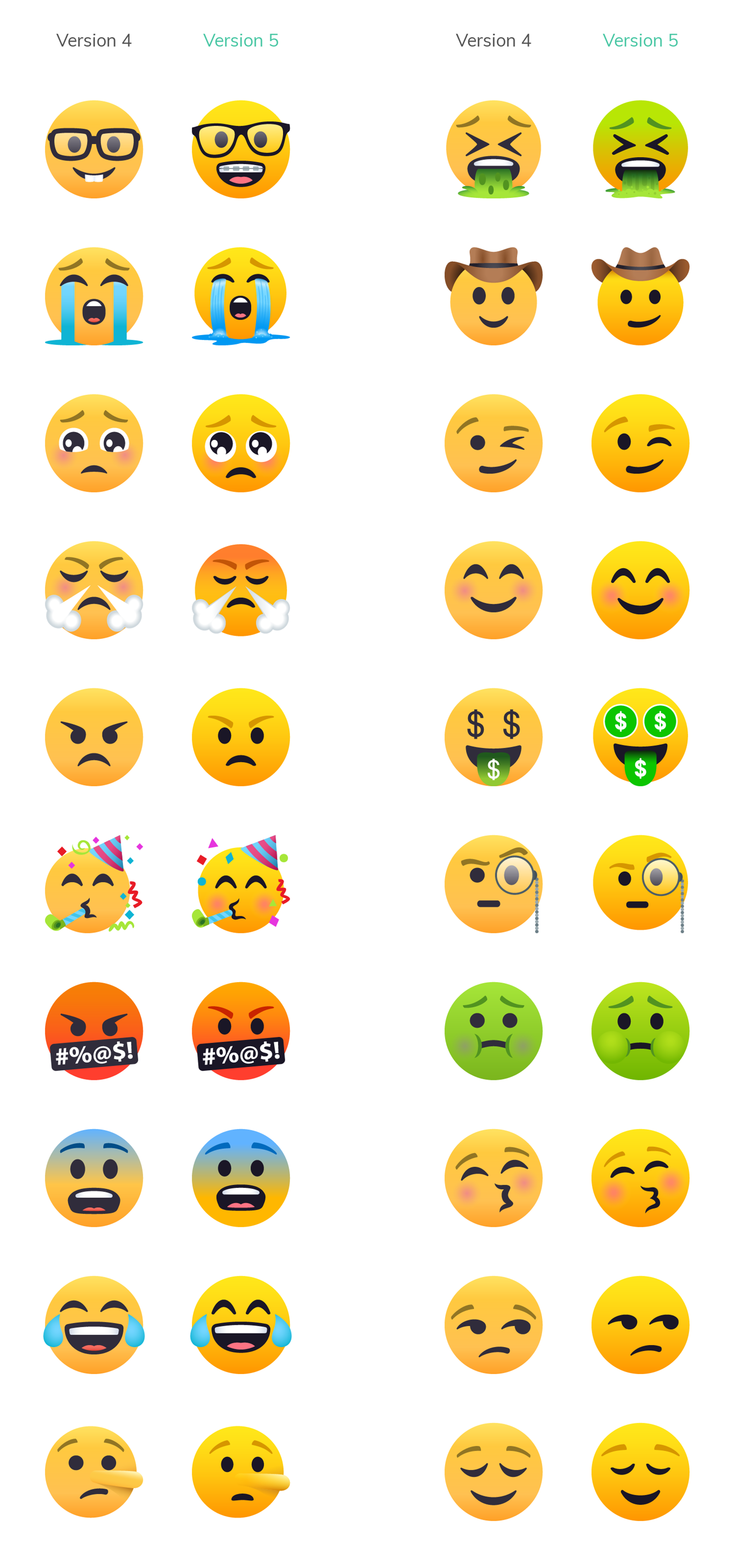 People Updates
Version 5.0 includes a thorough redevelopment of our People emoji. The designs have shifted away from more western stylings (particularly in hair) towards more globally suited styles. Great attention to detail has been paid to the facial features, as well, with more realistic ears, and subtle updates to eyes, brows, and noses.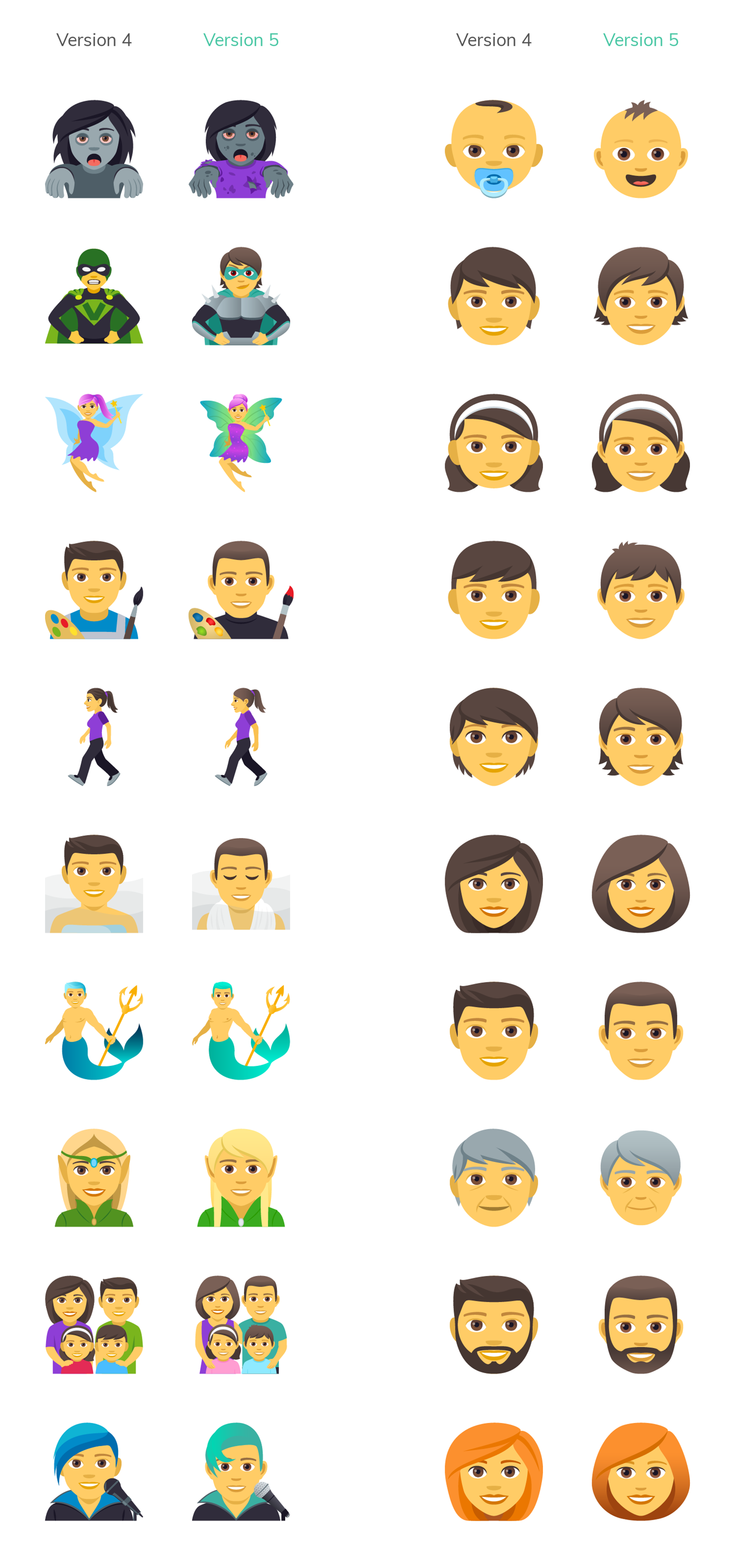 Animal Updates
Many of the animal emoji only received minor updates in Version 4.0 and were long overdue for a complete redesign. In 5.0, the T-Rex gets meaner, the Fox gets slyer, and the Dog is looking especially floofy. Each animal emoji gets a dose of representative personality in this update.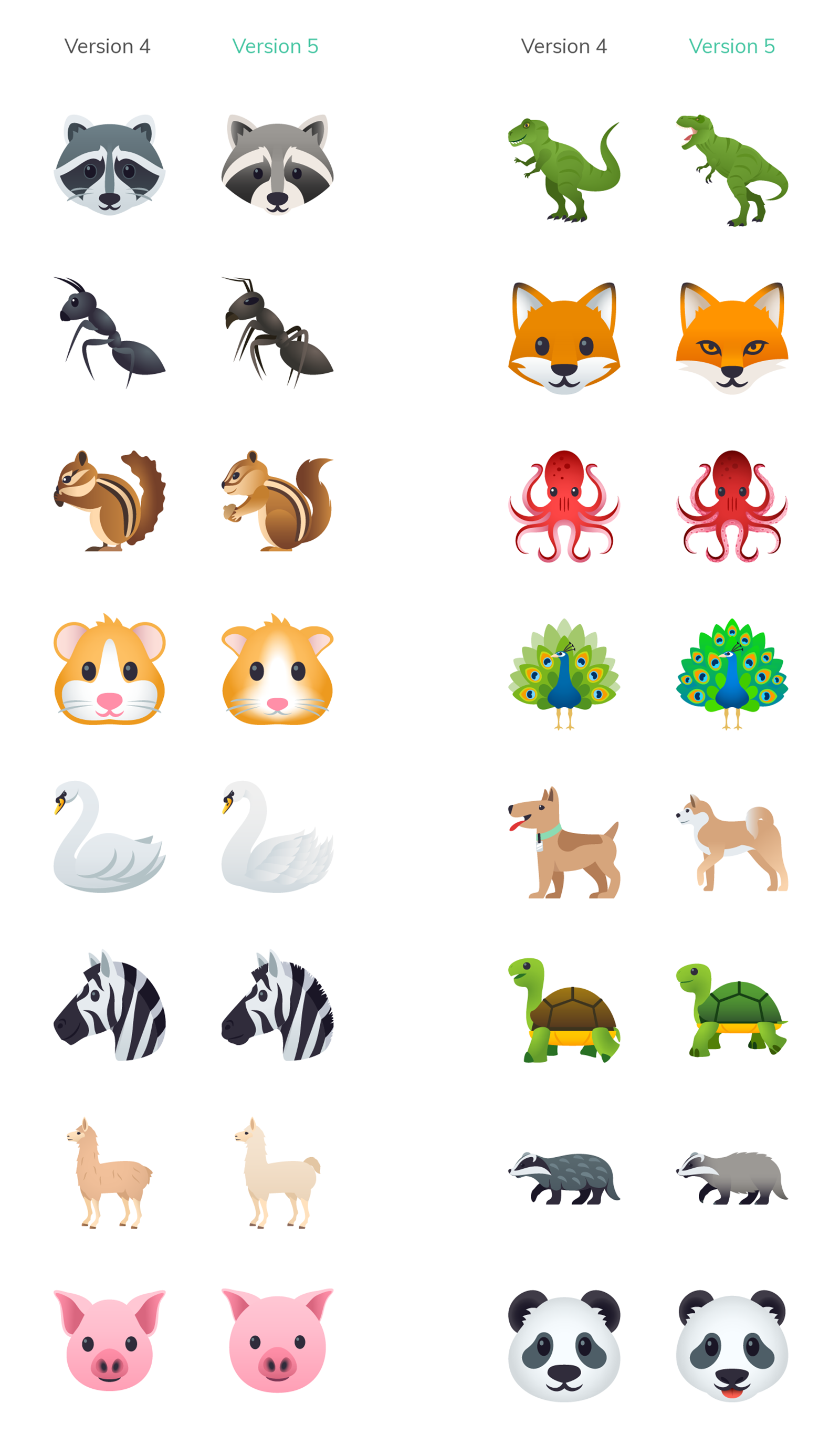 Food Updates
The food emoji category also sees an array of updates in Version 5.0. Notably, as part of The Future Doesn't Suck Movement, we have opted to move to a paper straw in our Cup with Straw emoji and have done away with the straw altogether in the Tropical Drink emoji.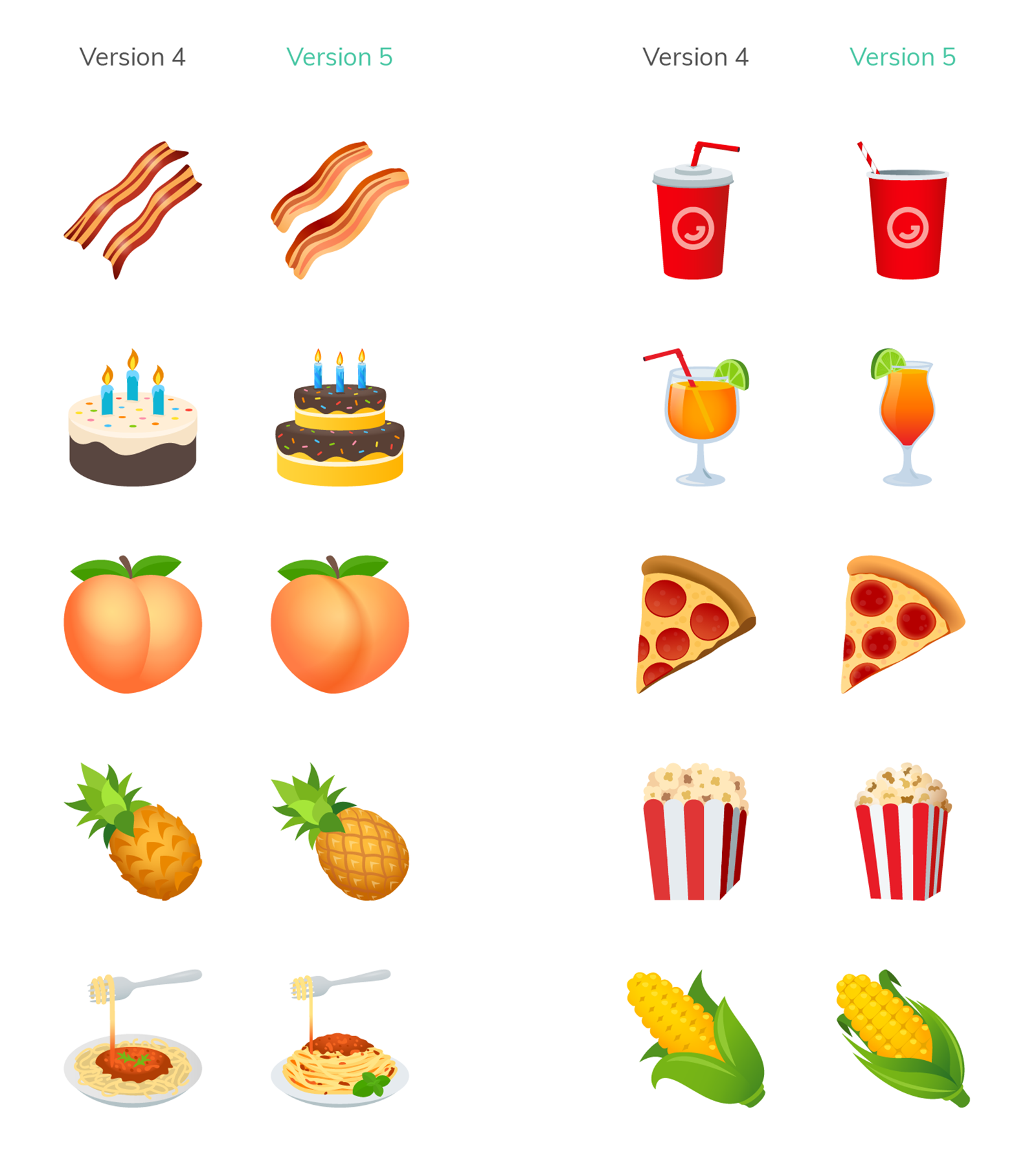 New For Unicode 12.0
JoyPixels remains fully Unicode-compliant with this 5.0 release, offering every new emoji introduced in Unicode 12.0. This includes 230 new designs, such as the Yawning Face, Ballet Shoe, Ringed Planet, Sloth, and Waffle emoji.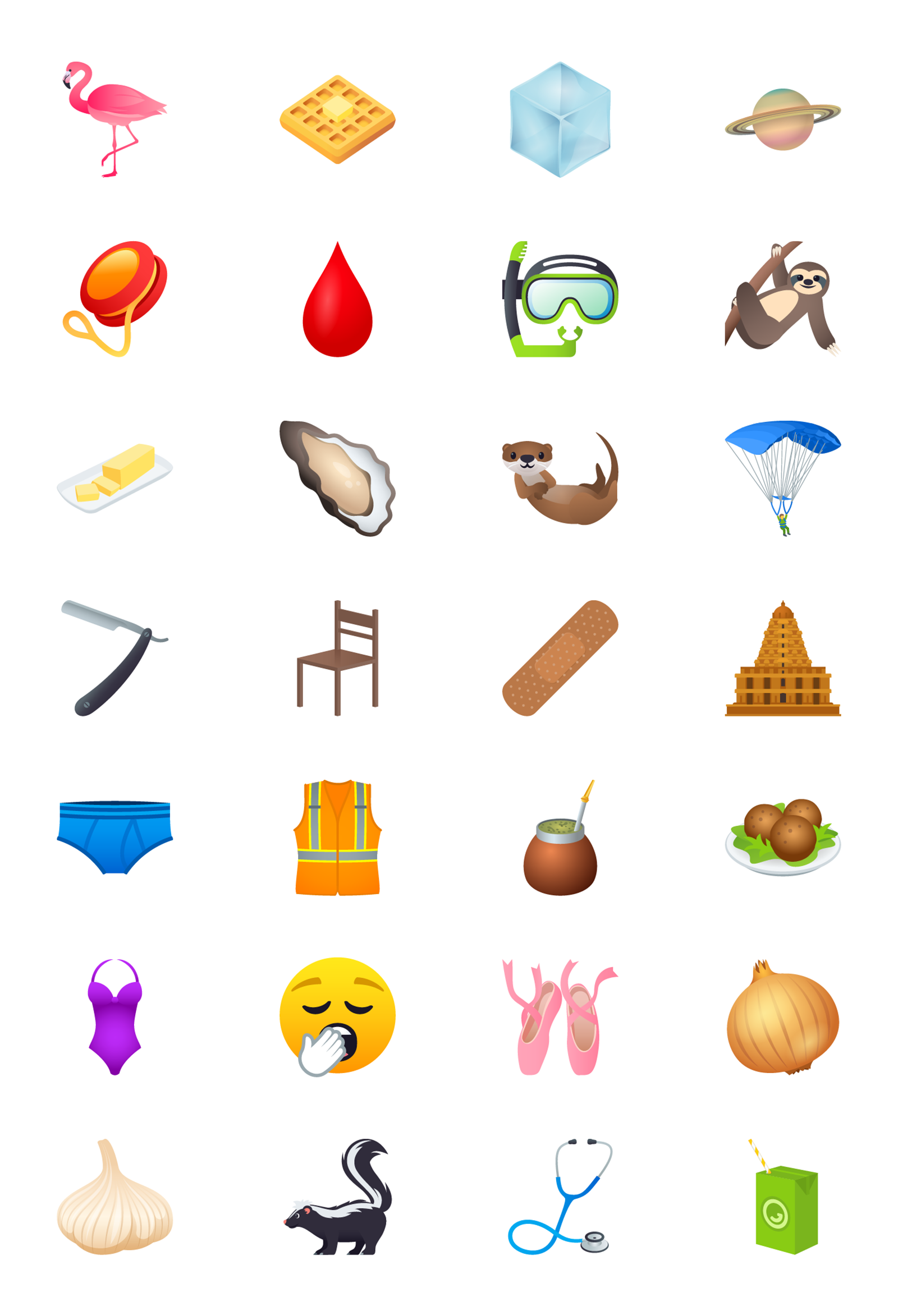 New Accessibility Emoji
One of the most noteworthy additions to Unicode 12.0 is the inclusion of a dozen accessibility emoji. These come as the result of a proposal that included feedback from American Council of the Blind, the Cerebral Palsy Foundation, and the National Association of the Deaf. The new emoji include wheelchairs, service dogs, prosthetic limbs, and hearing aids, among others. These are a welcome addition towards making emoji more representative and inclusive.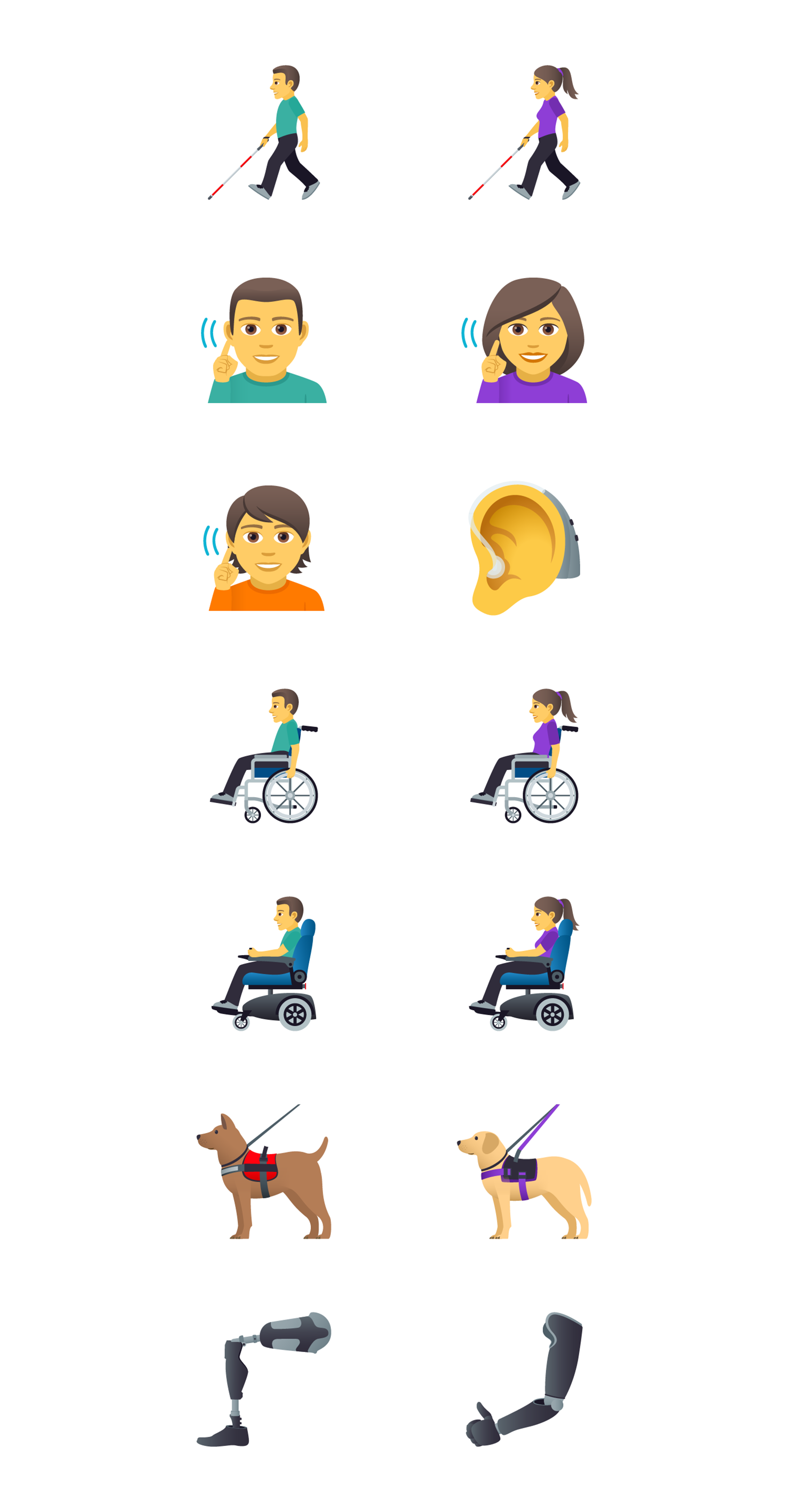 Holding Hands Now Diverse
Another major piece of Unicode 12.0 and JoyPixels 5.0 is the newly introduced combinations of men and women holding hands. Users will now be able to select from nearly any combination of women, men, or people, in any diversity combination, holding hands. This works out to a total of 74 pairings, marking another huge step in inclusivity.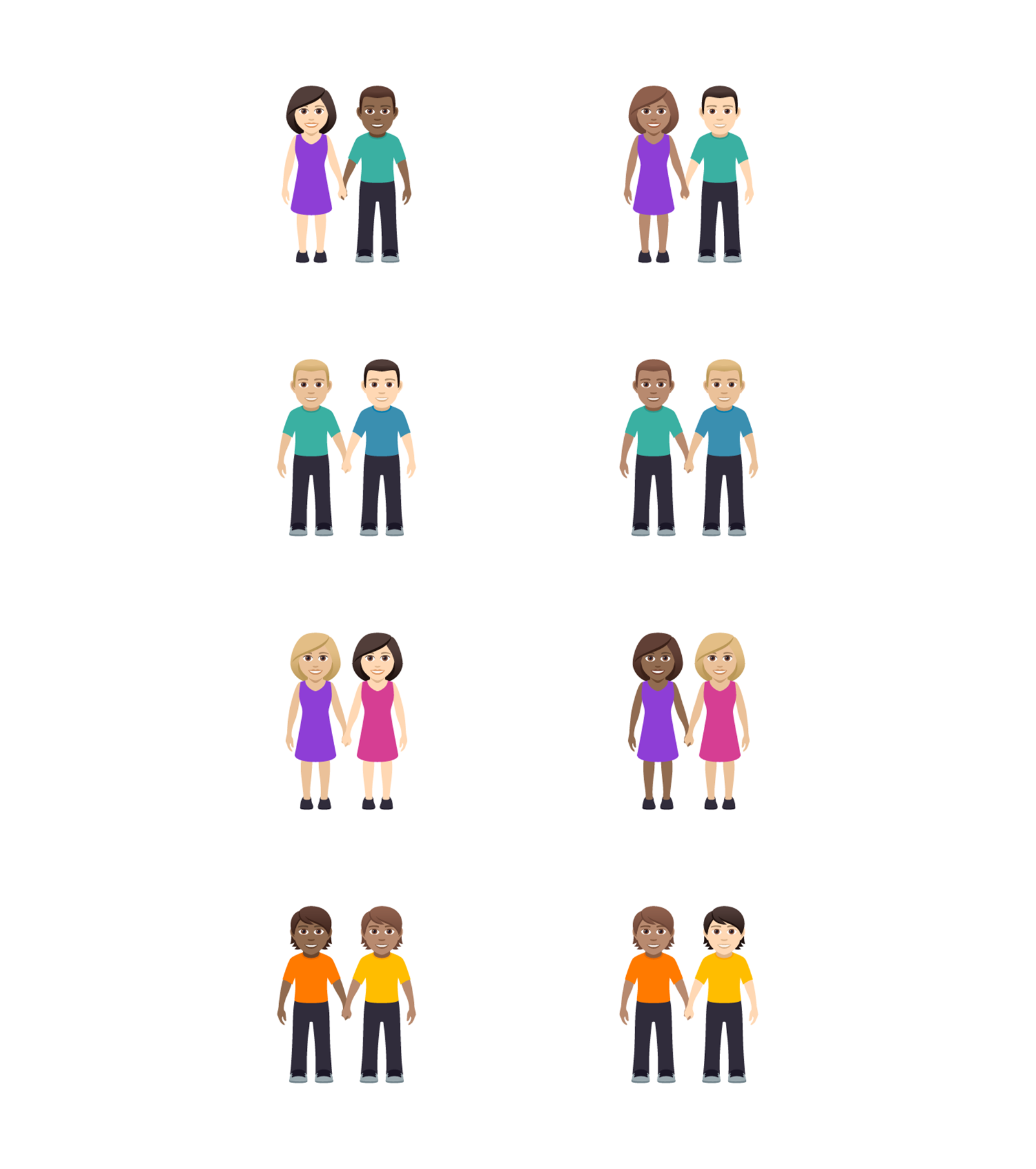 New Third Gender Emoji
JoyPixels has long offered a third gender variation in addition to Man and Woman. However, up until this point the third option was actually represented by a Man or a Woman character. With Version 5.0, a third gender has been designed to now fill the person slot (for emoji that apply). Facial features, hair stylings, and clothing choices were made to provide more inclusive options, both to represent those who may not identify with the Man or Woman emoji, as well as for when gender may be an irrelevant factor in emoji selection.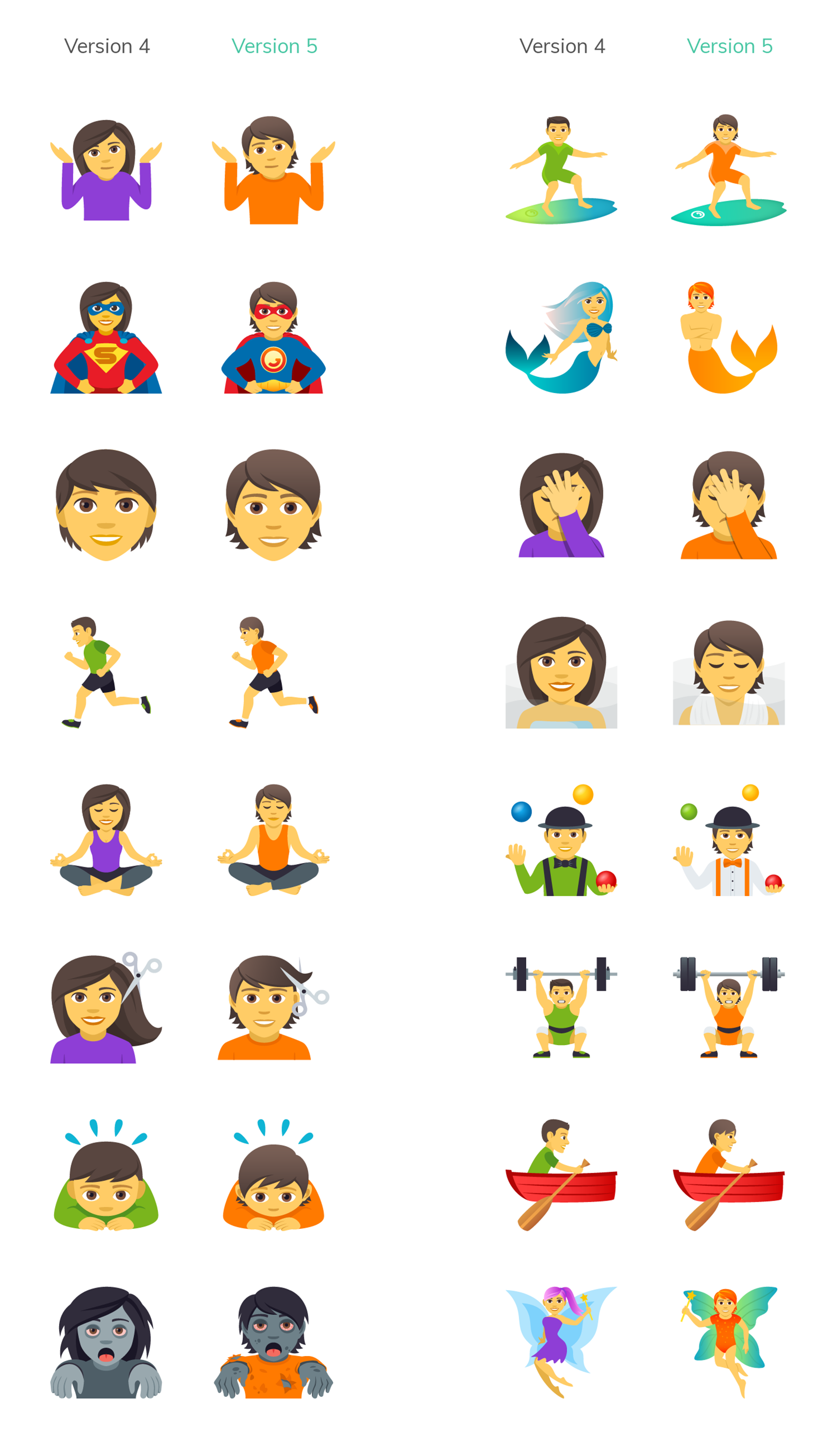 Now Available
JoyPixels 5.0 is available for immediate licensing. To determine which license is right for your project please visit our emoji license comparison page or reach out to us at [email protected] with your questions.
Upgrades enjoy additional 25% off for being a current license holder (Version 3 or Version 4).  This discount has no expiration and is also auto-applied at checkout when logged in.
JoyPixels is proud to remain at the forefront of emoji design and inclusivity, spreading joy one pixel at a time!  ✨