New EmojiOne animated emoji are here and they're spectacular. As our Version 4.0 signature emoji set was developed over early 2018, it quickly became apparent that we had to see these striking new designs in motion. Months were spent crafting these all-new original designs and the results are as entertaining as they are stunning.

Face Blowing Kiss:
Tears of Joy:
Exploding Head: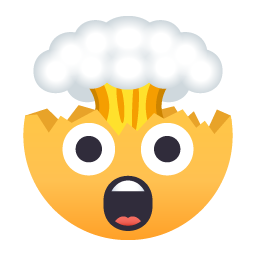 Zipper Mouth Face:
Face Vomiting:
New & Classic Smileys- Animated!
Of the 40 new designs, 25 are animations of our beloved smileys! We've combined our long-time fan favorites (like Tears of Joy, Face Blowing Kiss, and Vomiting Face, featured above) with several new smileys from the Class of Unicode 11.0, like the Hot and Cold Faces, Woozy Face, and Party Face (featured below).
Hot Face:
Cold Face:
Party Face:
Great Design Variety!
For the first time, we've expanded beyond classic smileys to feature some of our other most popular emoji designs. Hand gestures, monkey covering his eyes, a champagne bottle popping, and the ubiquitous shrug emoji are made more entertaining than ever with the addition of animation.

Hands Clapping:
Thumbs Up:
See No Evil Monkey:
Bottle With Popping Cork:
Woman Shrugging:
Pile of Poo:
Confetti Ball:
Multiple File Formats, Sizes, and Background Options
Developers will find the following file options included in each pack:
JSON Files

PNG Frames
1024
256
64
GIF (transparent background)
1024
256
64
MP4 (white background)
1024
MOV (transparent background)
1024
Licensing Info
The EmojiOne Animation Pack is offered as a premium license for personal, nonprofit, and business use. Licensing costs are based on company size, starting at $49 for personal non-commercial use and $149 for small business use. Contact us to discuss licensing options.
Zany Face:
Face With Steam From Nose:
Loudly Crying Face:
Beaming Face:
Now Available!
The EmojiOne Animation Pack is now available for developer licensing and consumer download, and this is but a small sample of the 40 fantastic, new designs included in the pack. Developers will appreciate the hassle-free user-friendly experience. Consumers will dig the fact that they can download the animated emoji free on iTunes! Put your design projects in motion with the new EmojiOne Animation Pack.