JoyPixels is excited to announce the launch of our newest signature emoji set- JoyPixels 5.5! This update includes every new emoji added in Unicode's latest release - Unicode 12.1 - for a total image count of 3,255 icons. We've also introduced new style updates for emoji in our People, Food, and Animal categories.
All totaled, an impressive 1,544 emoji have been added or updated in JoyPixels 5.5. The collection is available for immediate licensing and is offered at no additional cost to JoyPixels 5.0 license holders.
New For Unicode 12.1
JoyPixels 5.5 is fully Unicode-compliant, and includes every new addition from Unicode 12.1. This works out to 23 new gender-neutral emoji, all with skin-tone support, for a total of 168 added designs. The gender-neutral option has been rolled out to all non-gender specified emoji, including the Teacher, Fire Fighter, Person in Manual Wheelchair, and more.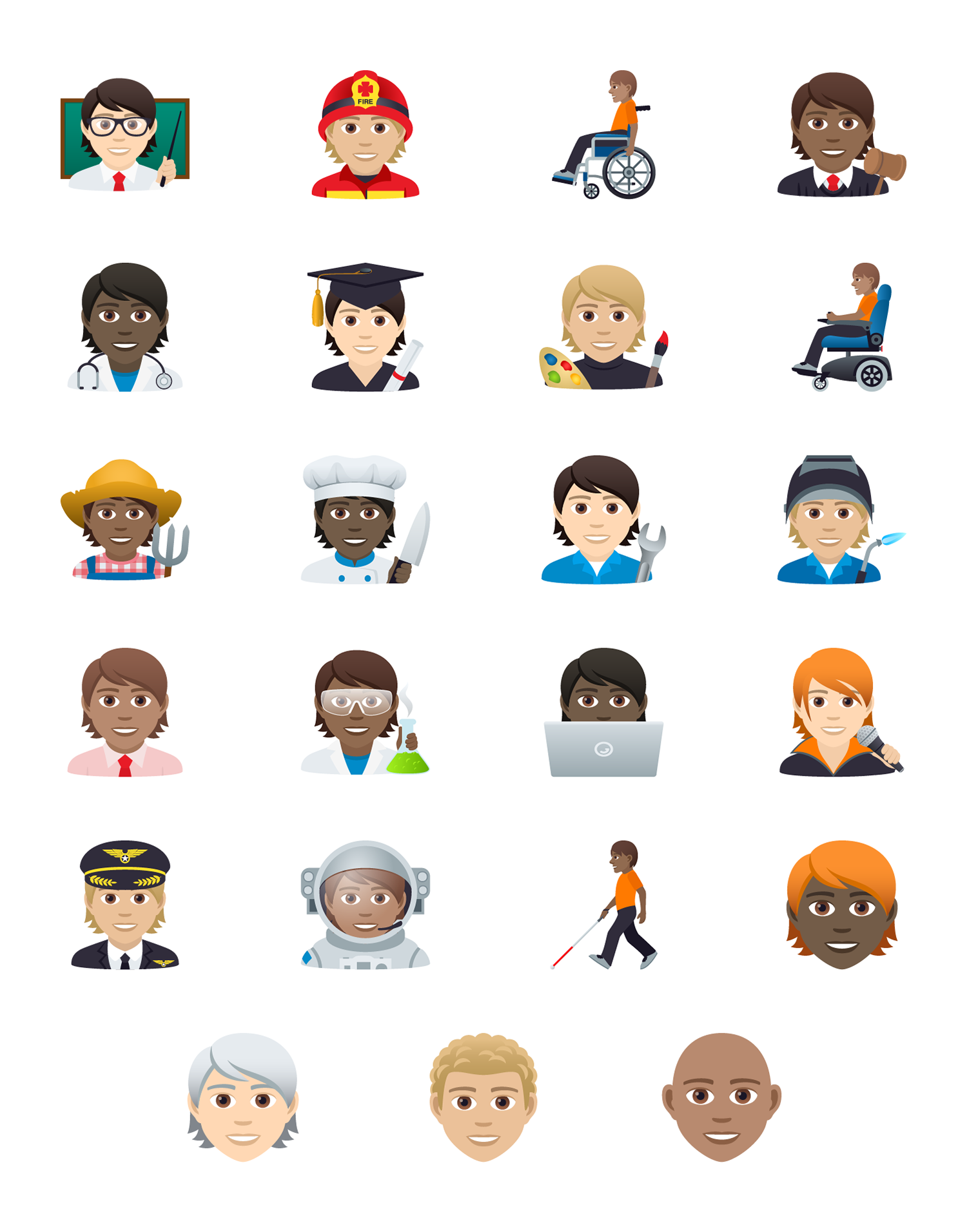 Included in the 168 new designs of JoyPixels 5.5 and Unicode 12.1 are 30 mixed skin tone combinations of people, men, and women holding hands. This builds on the diverse hand holding pairings first introduced in early 2019 and completes the range of hand-holding options.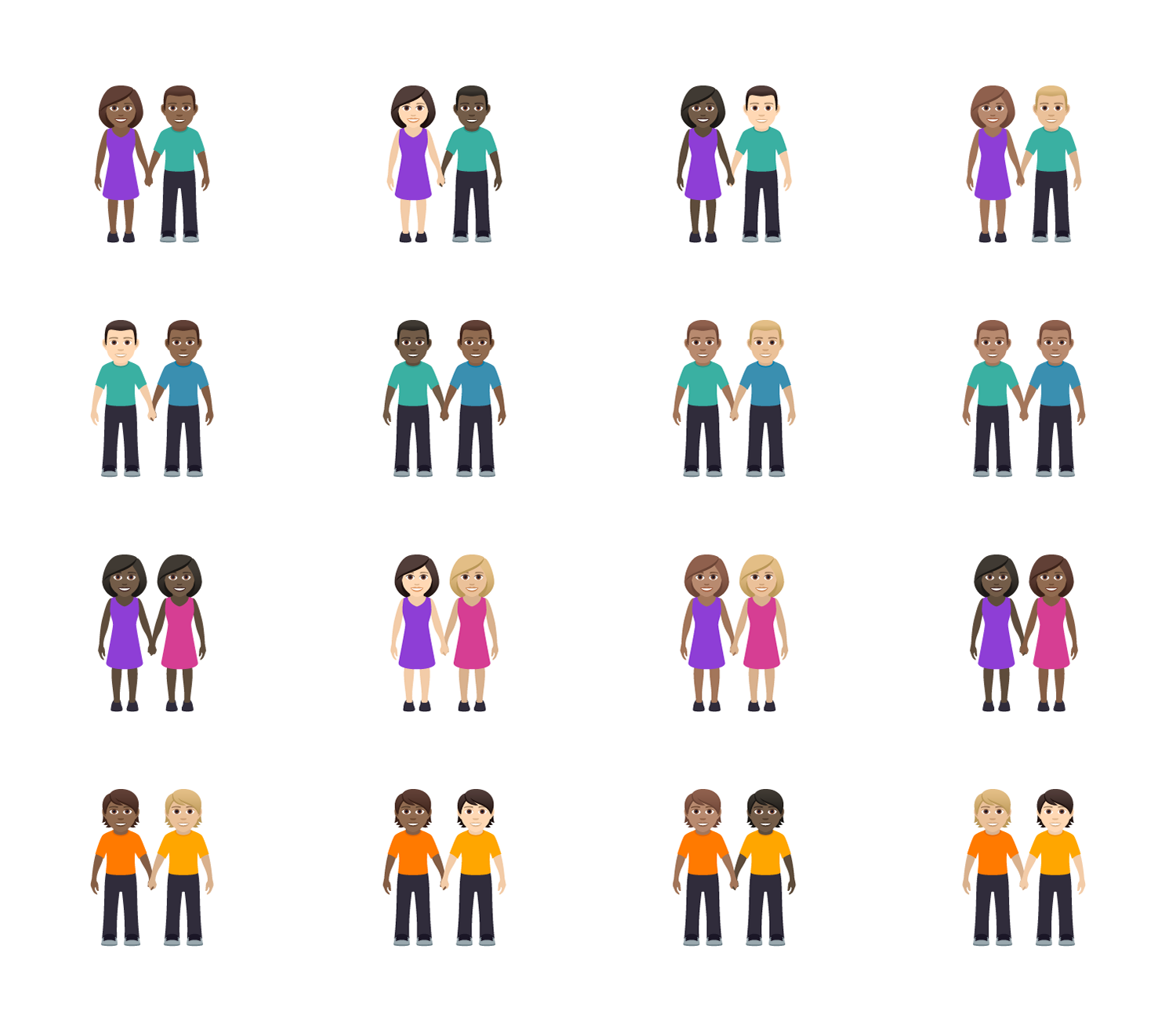 People Updates
In addition to the gender-neutral expansion, JoyPixels 5.5 includes broad updates across all People emoji. Users will note that all skin tone shades, including our default shade of yellow, have been deepened significantly. At the same time, we've introduced a pleasantly rounded lower edge in place of the formerly straight edged icon bottoms.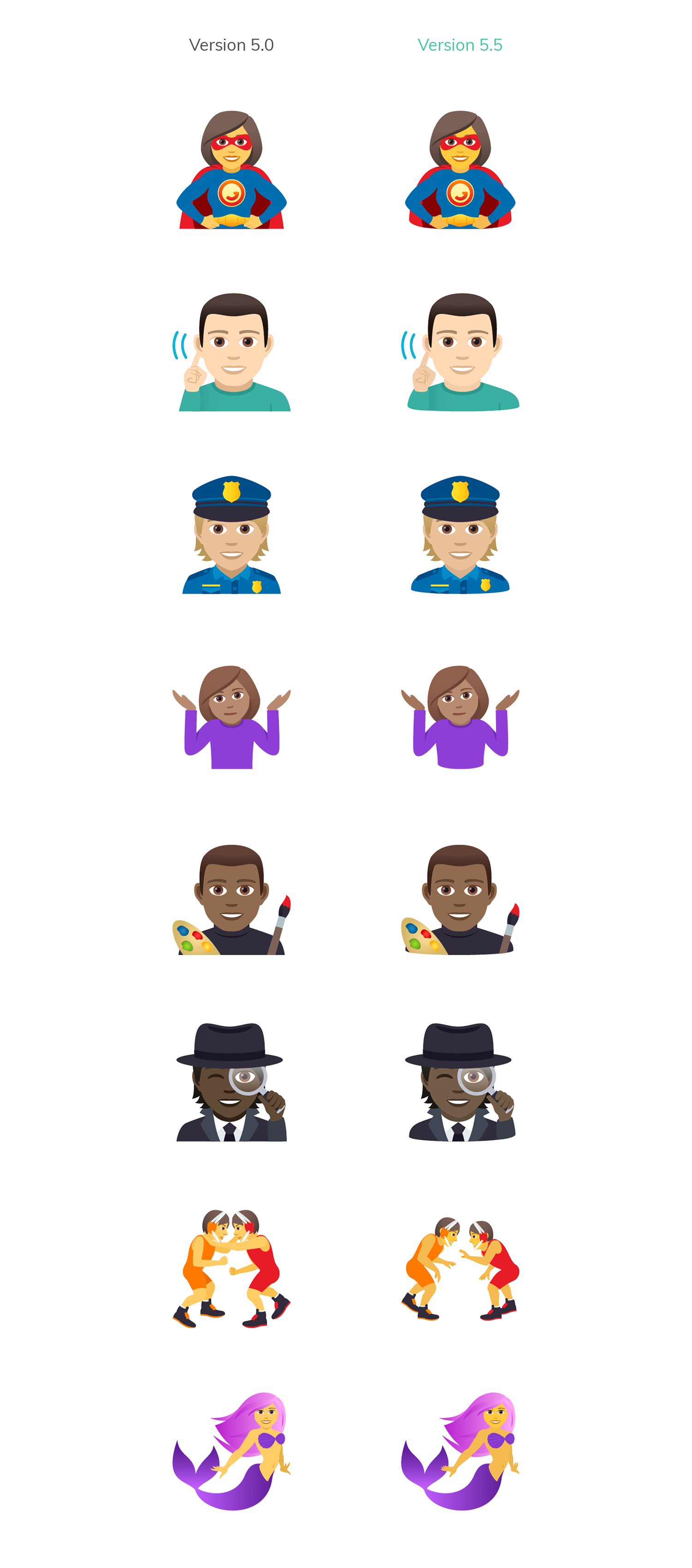 Animal Updates
We're excited to present completely new looks for several of our beloved animal emoji! The Zebra, Giraffe, and Rhinoceros are no longer just heads but are now shown as full-body designs. Meanwhile, the Sloth, Otter, and Kangaroo have been fine-tuned, as well, for a more realistic look consistent with the rest of the collection.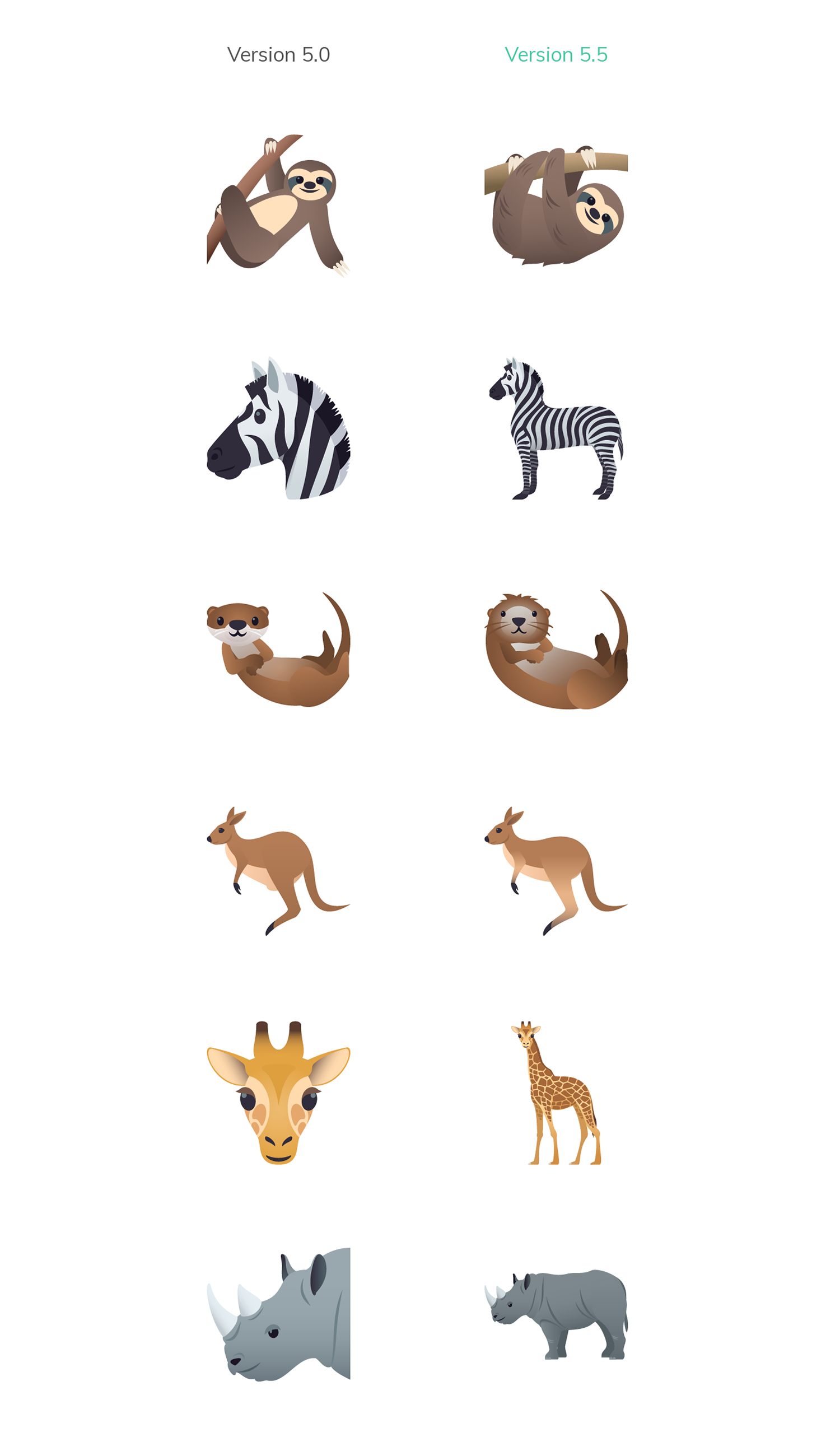 Food Updates
Several items within the Food category have received a similar treatment. Deepened colors, expanded gradients, and more detailed features have been applied to the Taco, Waffle, and Bento Box, among others. The resulting designs look good enough to eat!
Other Updates
A handful of other emoji have been updated in JoyPixels 5.5, as well. Two particularly noteworthy design changes include the move from a straight blade razor to a safety Razor, and the addition of tears to the Rolling On The Floor Laughing emoji. Both of these refinements bring increased compatibility with other vendor design choices.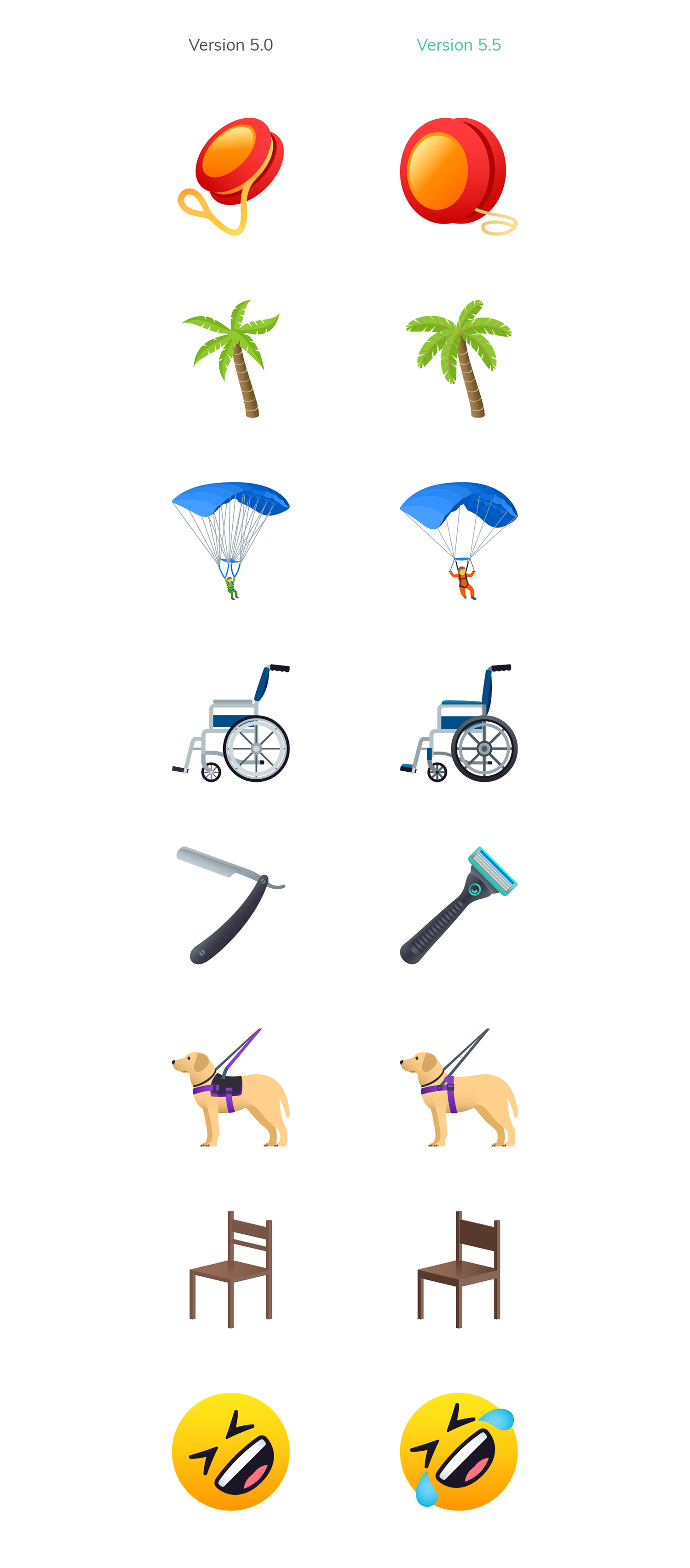 Now Available
JoyPixels 5.5 is available for immediate licensing. Licensees who have purchased JoyPixels 5.0 will receive the update at no additional cost, and those who have previously purchased Version 3.0 or Version 4.0 will automatically receive a 25% off discount. If you're a first-time purchaser, head over to our Licensing page for more information on which license is right for you.
Whether this is your first time with us or your fifth, we're thrilled to continue spreading the joy with JoyPixels 5.5! ✨