It is with much pride and excitement that we announce the launch of EmojiOne 4.0 today! This was a design upgrade that no one saw coming. What started out as purely a refresh of EmojiOne Version 3.1 has evolved over the last nine months into one of our most ambitious updates yet. Since Version 1.0, EmojiOne has been shifting from a more cartoon-style emoji to a design characterized as more realistic and lifelike, and nowhere is that more apparent than in our Version 4.0 emoji icon gallery.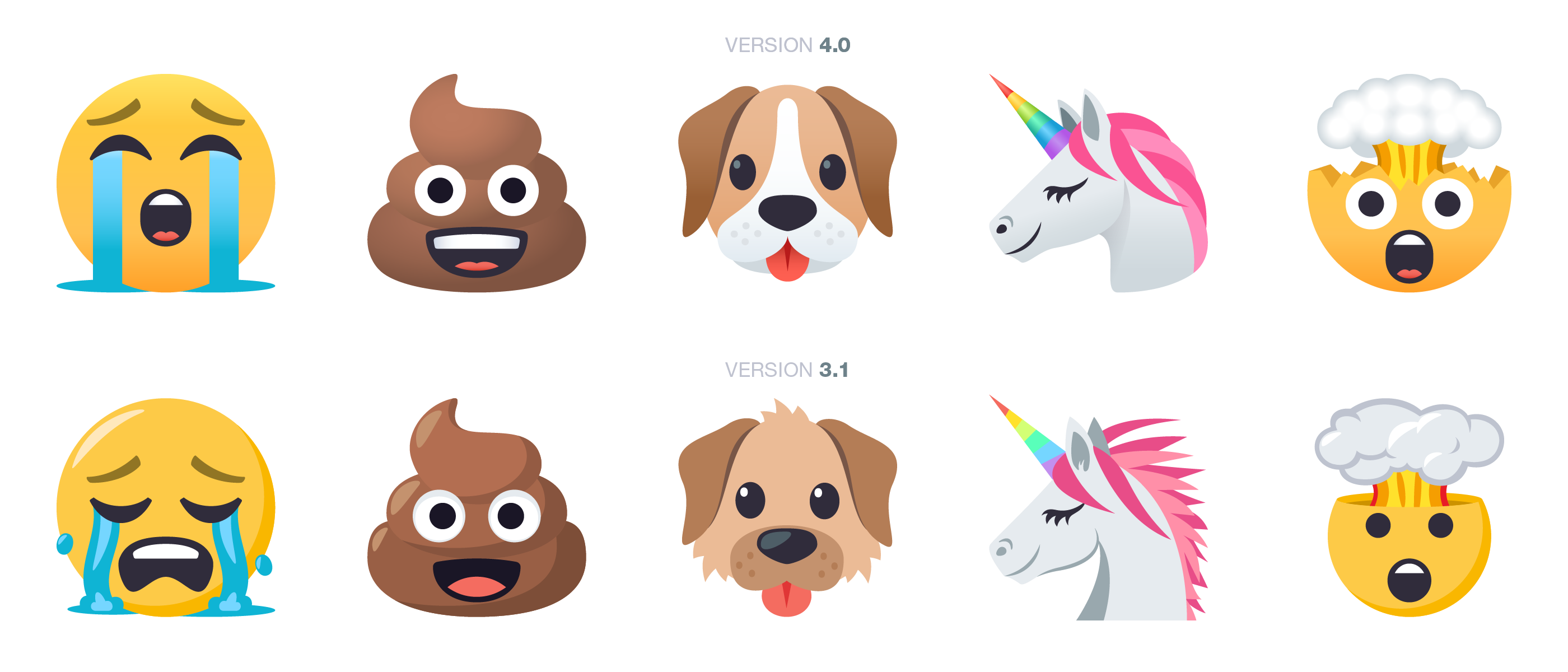 Remarkable Attention to Detail
The most notable design enhancement in Version 4.0 is certainly the introduction of gradients. As 4.0 took on a more lifelike style, it quickly became apparent that our designers needed access to a wider range of shades to best reflect the details in each design. The results are stunning and more colorful than ever!

That shift to a more lifelike style also meant a complete retooling of our People.Eyes, eyebrows, and smiles have all been updated. Users will note that the default hair color is no longer the reddish-orange of the past but will instead be brown, with hairstyles that are much more on trend for 2018.

100% Unicode 11.0 Compliant
EmojiOne Version 4.0 also supports all 2018 Unicode-introduced additions from Emoji 11.0. This includes 157 new emoji, such as the cupcake, bagel, peacock, llama, the oft-requested red head, and dozens more, bringing the total number of emoji included in Version 4.0 to an incredible 2,827 designs!

2 Guns in 1
EmojiOne Version 4.0 will also be the first version to offer a dual set of gun emoji, supporting both a water gun emoji design as well as a realistic pistol.Licensees will have access to both versions, for the first time putting emoji choice squarely in the hands of our developers.

Limited Time Offer
To kick off the launch of Version 4.0, EmojiOne is offering fantastic discounted pricing for the next 31 days. During this time, previous license holders will have the opportunity to upgrade to a 4.0 license at a whopping 50% off! Those who are new to licensing with EmojiOne will still be treated to a very sweet 25% off. But hurry, these prices expire on September 21st!
We're thrilled to share this collection with both developers online in the digital realm, as well as with our JoyPixels partners in merchandising markets. Check out our Compare Licenses page for more info: from our limited use free license all the way up to premium and enterprise licenses, we have an option to fit all projects and budgets.