JoyPixels is excited to announce the release of the JoyPixels 7.0 Premium Emoji Font Suite. JoyPixels is now offering a single premium download that includes a list of fonts compatible with all modern browsers, Android, and Linux.
The premium font package starts at $99, and is included free with a JoyPixels 7.0 Premium License.  We've supported Android developers for years (and continue to), but now with the help of cross-browser compatibility, we're excited to finally extend support to web developers.
What's a Web Font?
Web fonts can be displayed natively by modern web browsers, such as Chrome, Safari, Opera, Firefox, and Edge (among many others!). For many years, JoyPixels has consistently provided fonts for installation on Android.
WOFF and WOFF2 fonts help to achieve a unified look and feel to any website that uses emoji. WOFF stands for Web Open Font Format, which is perfect for websites as it provides nearly-universal modern browser support. WOFF2 is a newer variation of WOFF that expands on the array of supported specifications making it highly compatible with the modern web.
JoyPixels Font Specs
JoyPixels provides multiple font formats in hopes of serving the majority of clients. Version 7.0 now includes the cutting-edge COLRv1 format (SVG-vector) with an extremely small footprint of 1.6 MB, compatible with most modern browsers.
Older versions of Chrome/Chromium-based browsers may require the use of CBDT (PNG-based) fonts to provide ample fallback. In order to provide full support for Safari as well as browsers running on iOS, the SBIX (PNG-based) fonts are also included.
Linux & Android
・joypixels-android.ttf (13MB)
COLR v1 SVG for Web:
・joypixels-colrv1.ttf (3.7MB)
・joypixels-colrv1.woff2 (1.6 MB)
See list of supported browsers for COLRv1 fonts.
SBIX PNG for Safari/iOS:
・joypixels-sbix-1.ttf (5.4MB)
・joypixels-sbix-2.ttf (6.2MB)
・joypixels-sbix-3.ttf (62k)
・joypixels-sbix-1.woff2 (4.9MB)
・joypixels-sbix-2.woff2 (5.6MB)
・joypixels-sbix-3.woff2 (58k)
CBDT PNG for Legacy Browsers:
・joypixels-cbdt-1.ttf (5.4MB)
・joypixels-cbdt-2.ttf (6.2MB)
・joypixels-cdbt-3.ttf (62k)
・joypixels-cbdt-1.woff2 (4.9MB)
・joypixels-cbdt-2.woff2 (5.6MB)
・joypixels-cbdt-3.woff2 (58k)
An upgrade from our emoji-toolkit
The rising popularity of open type fonts is no surprise, as they provide enormous time-saving benefits versus traditional options for rendering emoji. This is apparent when you compare to other options, like the JoyPixels Emoji Toolkit.  Our Toolkit is great for visual display, but has limitations in places like text inputs.
Using a font eliminates the overhead of manually parsing strings into emoji, and provides the additional benefit of displaying all emoji as JoyPixels no matter where they're located by simply applying a font-family tag to the enclosing class.
CSS implementation
Currently this solution works for all major browsers! But as mentioned previously, special considerations may need to be taken to support particular browsers, especially Safari.
View our recommend CSS example code from our demo site.
Fonts in action
Demo the fonts at EmojiCopy! Simply open the settings (gear) and select "Web Font" as your Emoji Type. While you're there, compare that to the "Native" font option and see how your system's emoji font compares.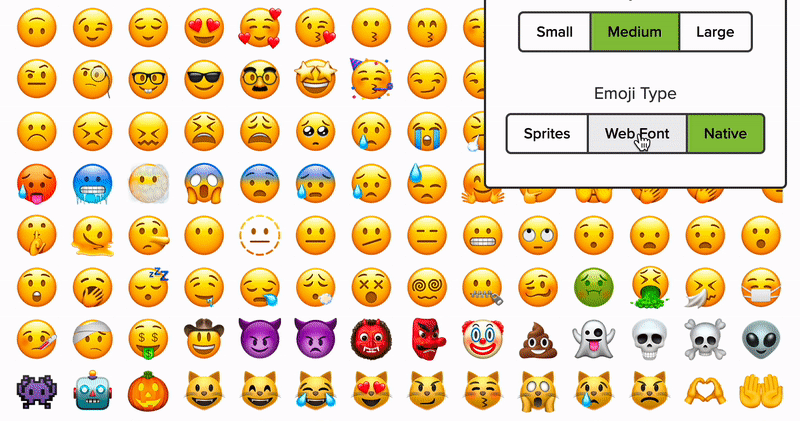 Purchase & Download
JoyPixels 7.0 Premium Fonts are available today and require a JoyPixels 7.0 Premium License.  Existing license holders can access the fonts at no additional cost and access them now from JoyPixels Fonts.
Producing these fonts took time, and we thank our community so much for being patient.  We hope you find them useful and please contact us if you encounter any issues.
Next up... JoyPixels 8.0 (coming July)!  🚀