JoyPixels is pleased to announce the release of JoyPixels 6.6! This will be the second incremental update for this series, something we haven't done, well, ever. This rare, second update is due to Unicode's own pandemic-related altered Emoji 14.0 update schedule. While the world may have to wait an extra six months for new emoji, we were not about to sit idly by and delay the release of the hundreds of design updates we had been working on. We are thrilled to make this upgrade available today, free to all current 6.0 and 6.5 license holders!
Nature Updates
The Nature and Animal categories both receive significant attention in JoyPixels 6.6. Continuing the evolution towards more detailed design, we've created a Fire🔥 that throws sparks, fluffy swirls of Fog🌫️, a delicately crafted Snowflake❄️, and a ferocious Dragon 🐉 whose toothy bite pops off the screen.
Food Updates
The Food category saw fewer updates but they are no less striking in design. Moon Cake 🥮 sees an intricate swirl pattern added to the top, Sandwich 🥪 now includes tomatoes and toasted bread, and Soft Ice Cream and Shaved Ice look like the perfect summer treats.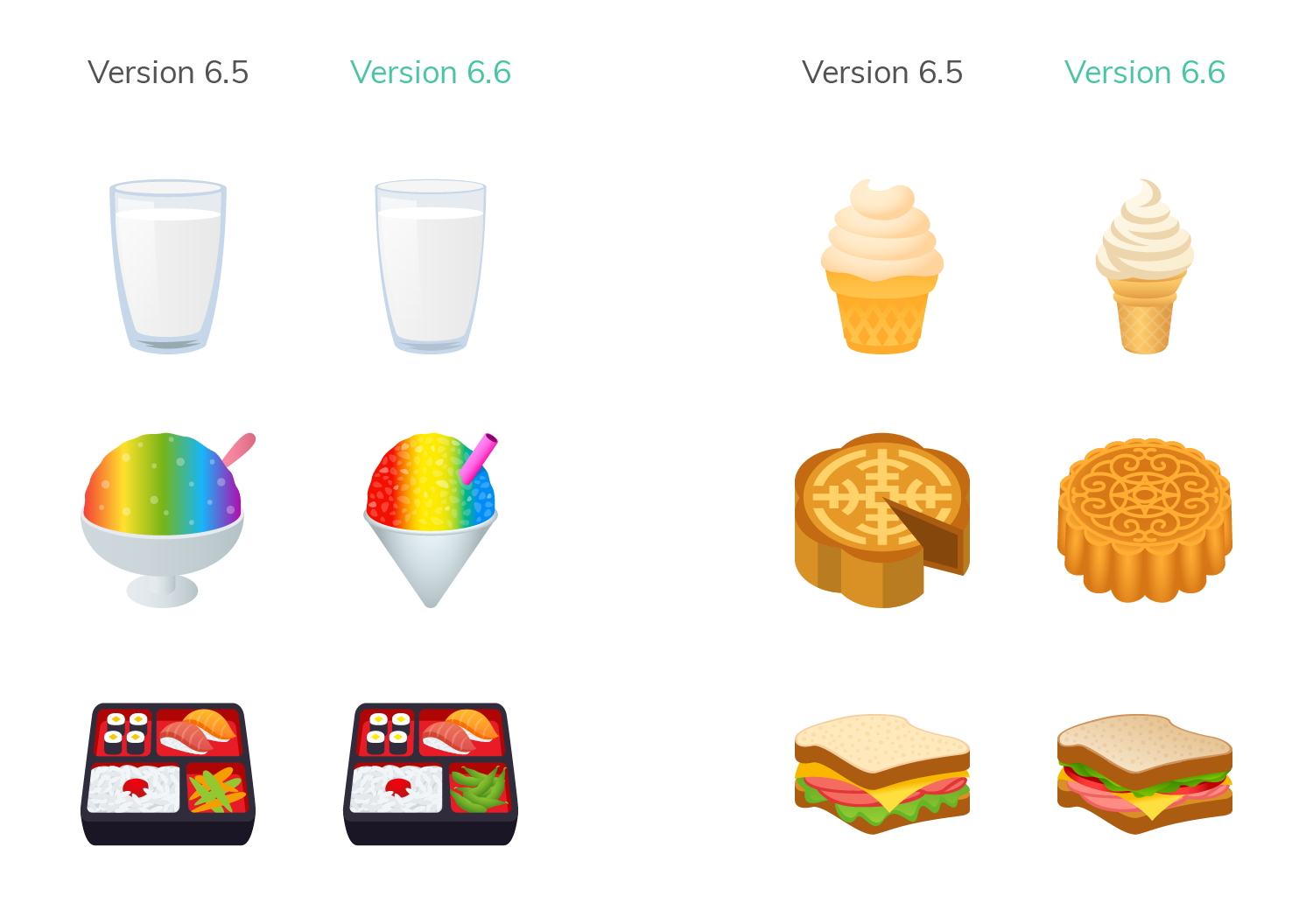 Activity Updates
The majority of the updates in JoyPixels 6.6 come from the Activity category, with well over a hundred new designs. The instrument updates are particularly distinctive. The realism of the Guitar 🎸, Banjo 🪕, and Trumpet 🎺 is uncanny, as they were modeled detail by detail on actual instruments.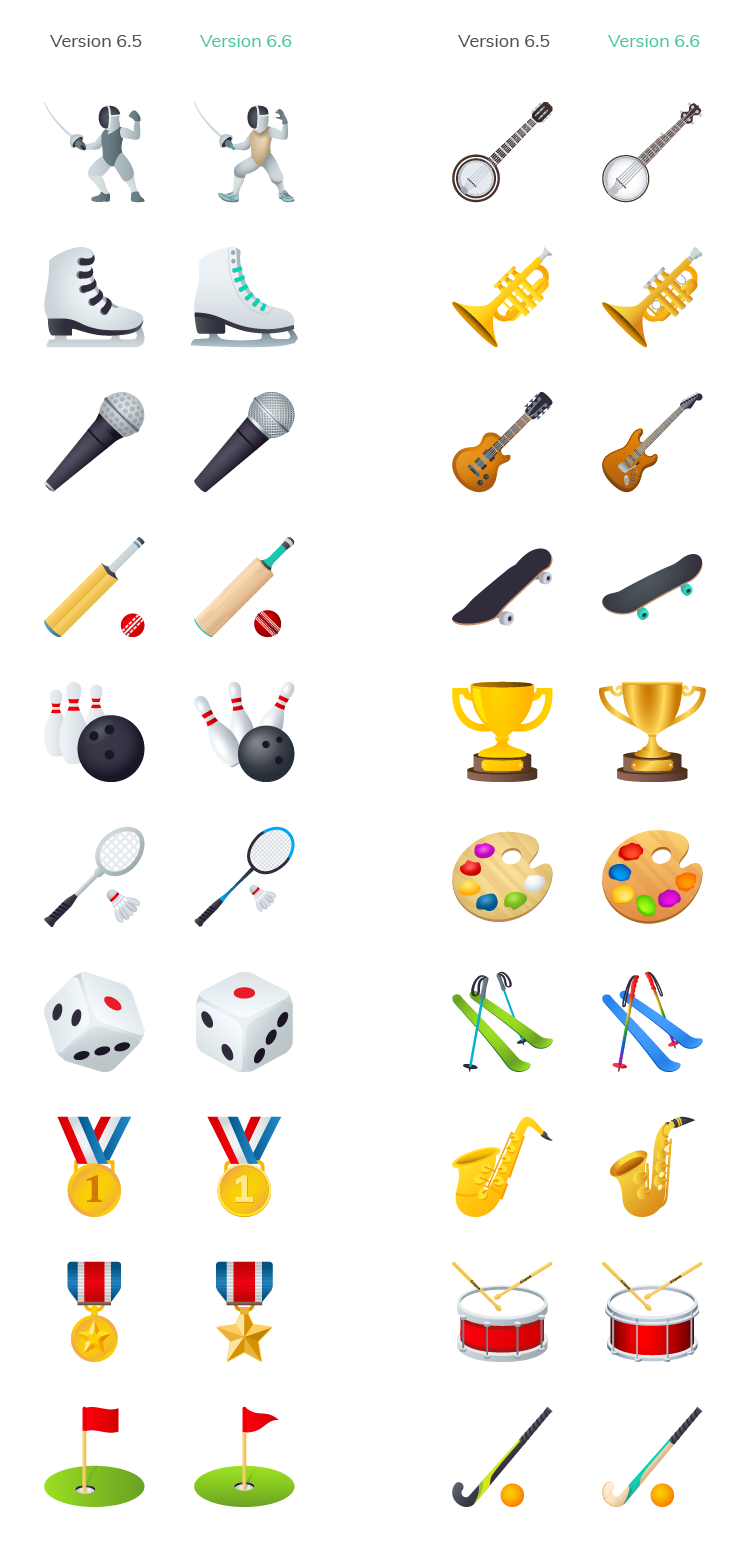 Travel Updates
Many upgrades were made across the Travel category, most notably the move to squared stylings for many icons. Sunrise Over Mountains 🌄, Sparkler 🎇, Fireworks 🎆, and Shooting Star 🌠 are examples of emoji that now feature a full frame design, in an effort to align more consistently with other vendors.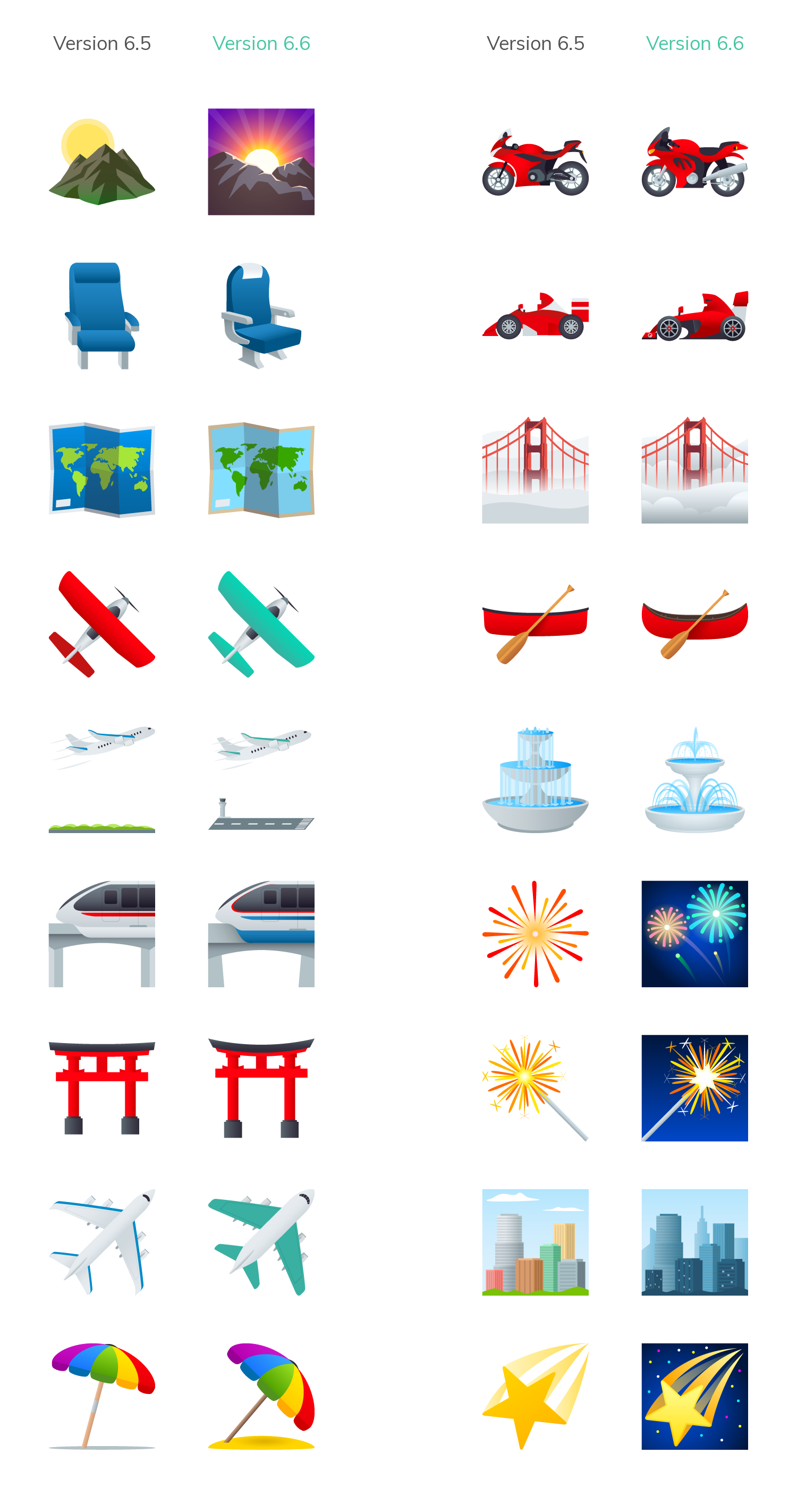 Object Updates
Perhaps no icon redesign in JoyPixels 6.6 is of more significance than the updated Syringe 💉 emoji. In light of 2021's headline-dominating COVID-19 vaccine, every major emoji vendor has removed the blood from the syringe, leaving it empty and, thus, much more versatile. Similarly, the Placard 🪧 and Headstone 🪦 have had their text removed, allowing for greater, more flexible usage.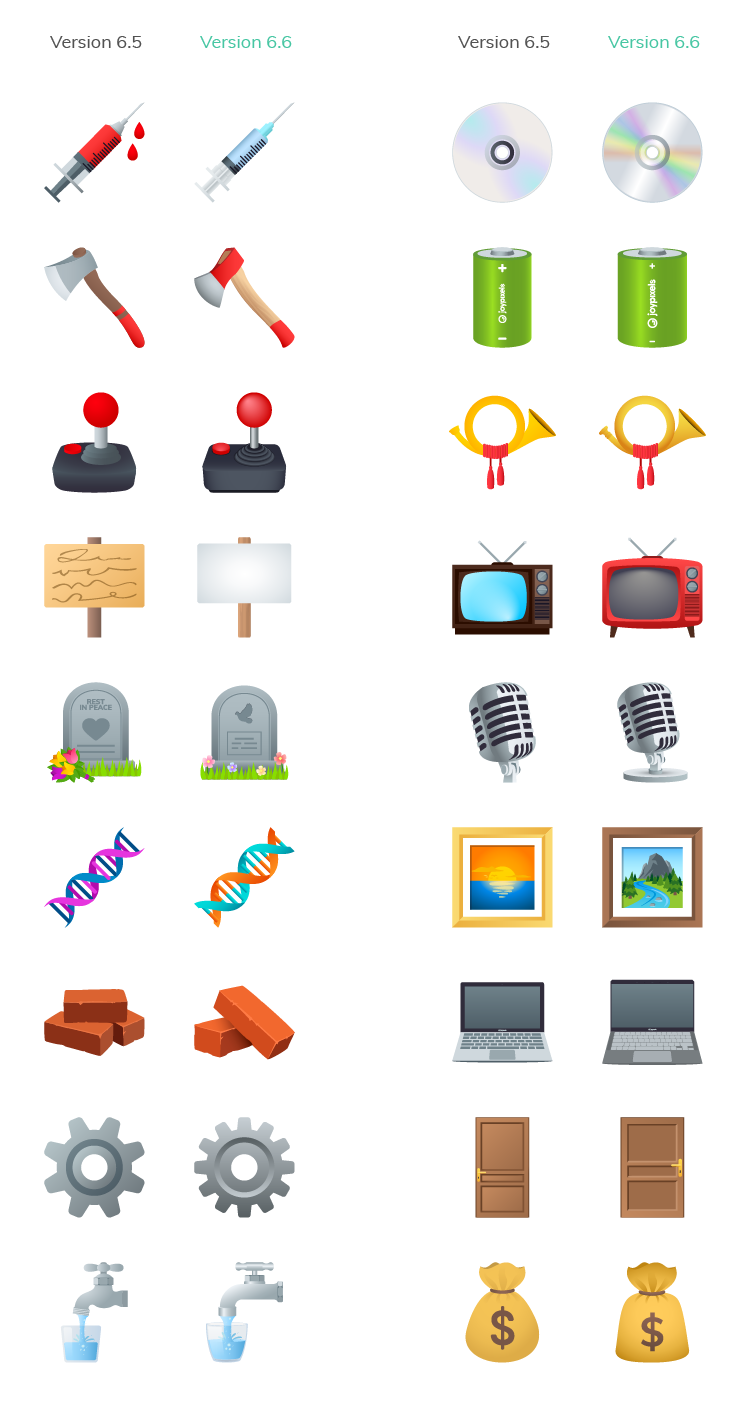 Upgrade Now!
JoyPixels 6.6 is now available for immediate licensing! In addition to the signature emoji set, all of the accompanying free and premium emoji fonts are available today, as well, including the updated Iconjar file, for complete access to the 6.6 collection.
Loyalty discounts are in place for our existing licensees, which are auto-applied at checkout when logged in:
6.0 and 6.5 license-holders receive the 6.6 upgrade at no cost
Version 3, 4, and 5 license-holders may purchase 6.6 at a discounted price of 25% off
Visit our emoji license comparison page or reach out to us to determine which license is right for you, and get access to JoyPixels 6.6 today. We're thrilled to share this rare, second incremental update with you and to continue to spread joy one pixel at a time. ✨